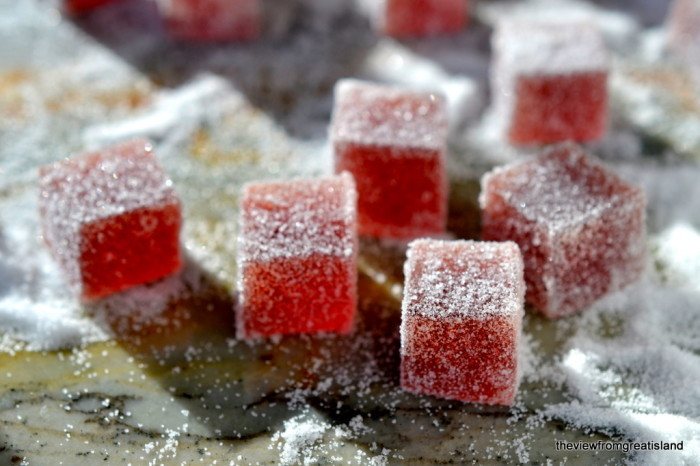 All Natural Pomegranate Gum Drops
Recipe by The View From the Great Island
Visit website
---
---
All natural homemade pomegranate gumdrops are easy to make with healthy fruit juice - homemade candy makes a fabulous holiday gift, too!
---
---
Ingredients
3 tbsp (1.25l) fish stock

(4 envelopes) unflavored gelatin (for vegetarian options, see note below)

¾ cup and 1 1/8 cup of pomegranate juice, measured separately

(I used Pom pomegranate juice)

3 cups granulated sugar, plus more for coating the candy
---
---
Method
Line an 8x8 inch pan with plastic wrap. Spray the wrap with cooking spray.
Put the 3/4 cup of pomegranate juice in a saucepan. Sprinkle it with the gelatin and let sit for 5 minutes.
Bring the remaining 1 1/8 cup juice to a boil in a different saucepan, and then add it to the the juice and gelatin mixture, stirring to dissolve the gelatin.
Add the sugar to the pan and stir to combine. Bring the mixture up to a boil, then turn the heat down and simmer (keep it gently bubbling) for about 20-25 minutes. Stir almost constantly.
Pour the mixture into the plastic lined pan. let cool slightly, then cover with plastic wrap and let chill in the refrigerator for 4 hours, or overnight.
Coat a surface with sugar and then gently lift the cold jelly out of the pan, using the plastic wrap to hold it. Turn it over onto the sugar. Coat the top with sugar.
Slice the jelly into approximately 1/2 inch strips, and then into 1/2 inch cubes. I sprayed my knife with cooking spray at first, but then the buildup of sugar on the knife actually helps it not stick. Gelatin is very forgiving and flexible, so just slice right through and pull it apart. It will spring back into shape.
Coat all surfaces of the candy with granulated sugar and let air dry for several hours. Then you can package them for gifts, or eat them up.