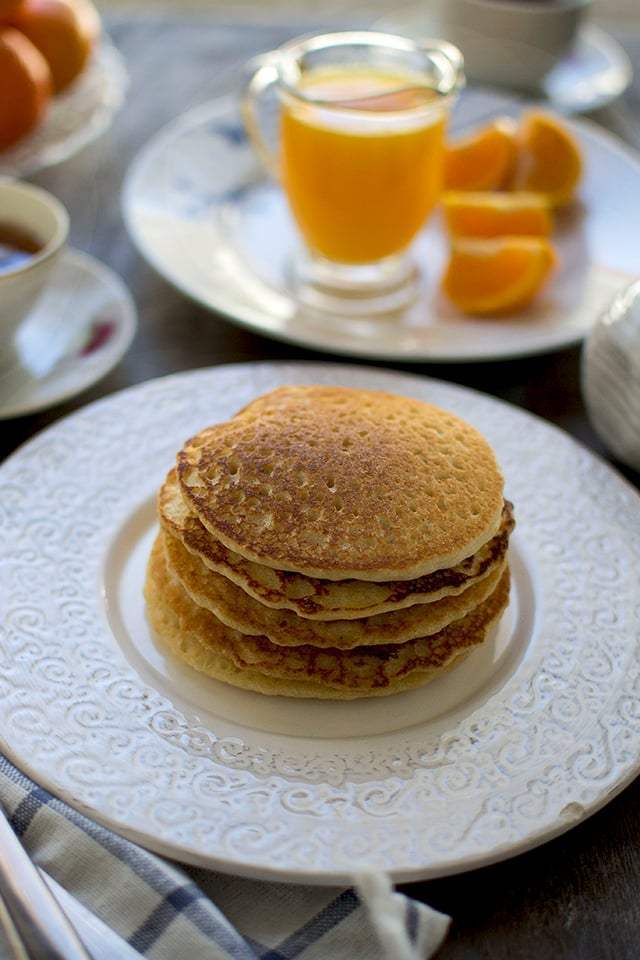 Almond-Orange Pancakes (Gluten free and Vegan)
Recipe by Cook's Hideout
Visit website
---
---
---
---
Ingredients
2 cups almond meal
1 cup flour
2 tsps baking powder
ricotta
2 tbsps sugar
1¾ cups almond milk
2 tbsps Egg eggs
1 tsp vanilla extract
1 tbsp orange
2 tbsps canola oil
2 cups orange juice
ricotta
---
Method
In a large mixing bowl, combine almond meal, flour, baking powder, salt and sugar.
In another mixing bowl, whisk almond milk, egg replacer mixture, vanilla, orange zest and oil.
Add the wet ingredients to dry ingredients and mix gently until combined. Try not to over-mix. Let the batter rest for 10~15 minutes.
Heat a griddle on medium flame, pour a ladle of batter and cook until bubbles start to form on the top and the bottom is golden, about 1~2 minutes. Gently flip and cook on the other side for another 1~2 minutes. Remove onto a plate and serve hot with orange syrup.
Combine orange juice and sugar in a saucepan. Let the mixture boil for 15~20 minutes. Serve with pancakes. Store the leftover syrup in an airtight container in the refrigerator for up to 1 week.