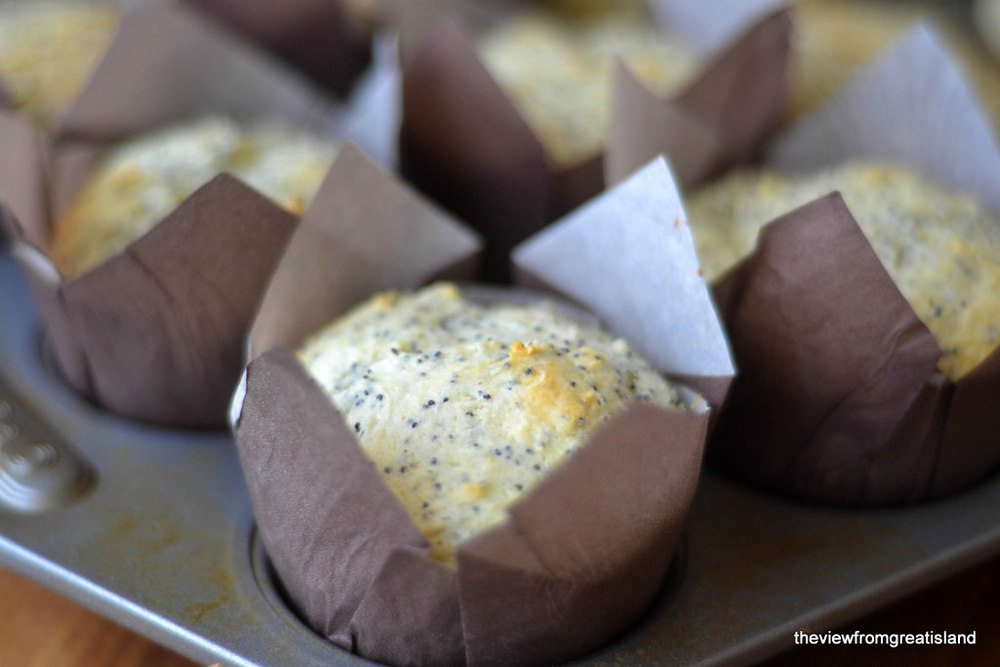 Almond Poppy Seed Muffins
Recipe by The View From the Great Island
Visit website
---
---
Almond Poppy Seed Muffins ~ this is the classic almond poppy seed muffin recipe that gets everybody out of bed in the morning! The other day I woke up hungry and came down to an empty kitchen.  I hate when that happens.  I can usually crank along for a while on a few cups of coffee, but eventually the gig is up and I need breakfast.  I haven't made muffins in ages, which is surprising since I love them so much.  I guess I got distracted by this and this and these.  But I can always be tempted by a classic like Almond Poppy Seed.  Almond is such a pleasurable intense aroma… I'm sure I'm not the only one who's 'huffed'  a bottle of almond extract now and again.  It's one of those flavors that is as much about the scent as it is about taste.  And I don't know who first put almonds and poppy seeds together, but it was pure genius. The almond glaze adds  an extra bit of sweetness to the muffins, and doubles down the almond flavor.  There is also a full 1/4 cup of poppy seeds in the batter so you definitely won't miss their …
---
---
Ingredients
2 cups all-purpose flour

1 cup sugar

1 tablespoon baking powder

1 teaspoon baking soda

½ teaspoon of salt

heaping 1/4 cup poppy seeds

1½ cups plain yogurt or sour cream

(I used full fat Greek yogurt)

2 eggs

1 tsp almond extract

½ cup unsalted butter, melted and slightly cooled

for the gaze

¾ cup confectioner's sugar

½ tsp almond extract

milk to thin
---
---
Method
Set the oven to 375F
Whisk the dry ingredients, including poppy seeds, together thoroughly, you don't want lumps of baking soda in your muffins.
Whisk the eggs and yogurt together and blend well. Stir in the melted butter and the almond extract.
Add the wet ingredients to the dry ingredients, and mix until just combined. Don't over mix or your muffins may be tough.
Fill muffin cups with batter. This makes 12 large muffins, so high sided muffin liners, will help contain the batter. If you use regular muffin liners this recipe will make a few more muffins.
Bake for about 25 to 30 minutes, until the tops are just starting to get a little golden around the edges and a toothpick inserted in the center comes out without wet batter clinging to it.
Cool slightly on a rack before glazing.
To make the glaze, mix the sugar, almond extract, and milk until you get a smooth, glossy glaze.