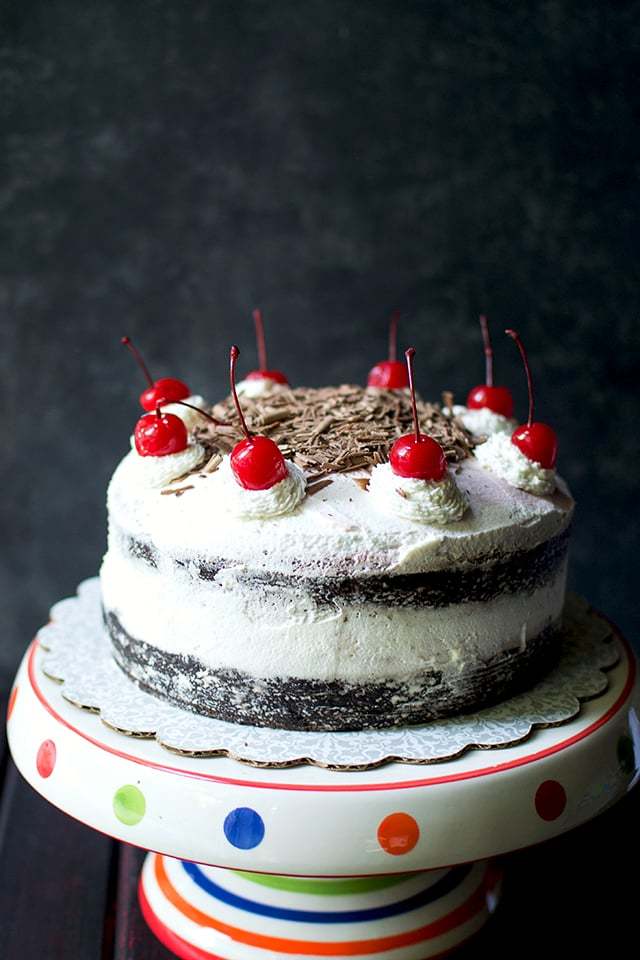 Black Forest Cake (Eggless Recipe)
Recipe by Cook's Hideout
Visit website
---
---
---
---
Ingredients
3 cups all purpose flour
1½ cups sugar
0.5 cup cocoa
2 tsps baking soda
1 tsp salt
1 cup water
1 cup almond milk
2 tbsps apple cider vinegar
2 tbsps vanilla extract
2 cups heavy cream
4 tbsps sugar
1 packet Whipping cream (stabilizer (I use Dr.Oetker Whip it or use 2tbsp Instant Vanilla Pudding powd
1 cup cherries
0.5 cup chocolate
---
Method
Preheat the oven to 350°F. Grease and flour 2 9" round cake pans. I used 2 8" round cake pans that were 3" deep. For added assurance that the cakes come out of the pan without sticking, line the bottom with parchment paper, then grease and flour the parchment as well.
Sift the dry ingredients (flour, sugar, cocoa, baking soda and salt) in a large mixing bowl.
Warm water and milk until they are quite hot to touch. In a large measuring cup or a medium mixing bowl, add all the wet ingredients (hot water+soymilk, oil, vinegar, orange zest & orange extract) until well combined.
Add wet ingredients to dry ingredients and whisk until well combined. DO NOT overmix.
Divide the batter equally between the 2 prepared pans and bake in the oven for 35~40 minutes or until a toothpick inserted into the center of the cake comes out clean. Remove from the oven and let cool for 5~10 minutes.
Then carefully flip the pan over a wire rack, peel off the parchment and let the cakes cool completely on the wire rack.
I usually make the cake couple of days in advance, clingwrap it couple of times and freeze it until ready to use.
Drain the cherries and reserve the syrup. remove the pits. Chop about ¾ of them finely for the filling and leave some whole for top garnish.
Chill the beaters and bowl for at least 30 minutes.
Pour the cold whipping cream, confectioners cream and Whip It (or vanilla pudding powder) and whip until stiff peaks form.
If the cakes are frozen, then leave them on the counter for about an hour to thaw before frosting. First level the top of a cake, if needed, and set it on the cake stand.
Liberally brush the cake with the reserved cherry juice.
Place a dollop of whipped cream and spread it evenly on the cake with a spatula. Sprinkle the finely chopped cherries on top of the cream.
Gently place the second cake on top of the first. Liberally brush the cake with the reserved cherry juice.
Cover the top with more whipped cream. Since I wanted the naked cake look, I left the sides 'almost' unfrosted.
To make grated chocolate, use a vegetable peeler to grate the chocolate on the top of the cake. Use the remaining whipped cream to make swirls and then top them with the whole cherries. Refrigerate the cake until ready to cut and serve.