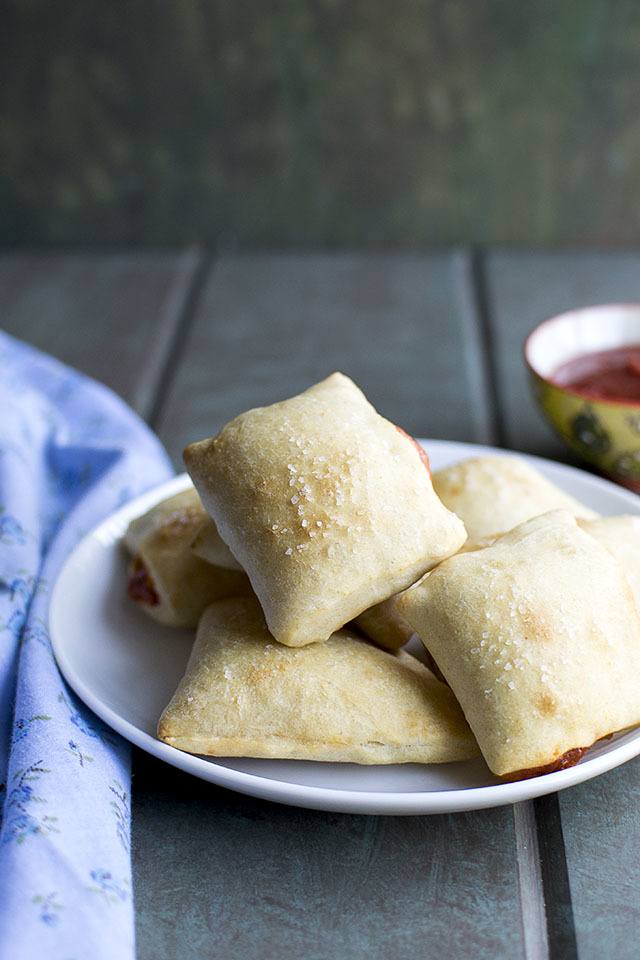 Cheese Pizza Pops
Recipe by Cook's Hideout
Visit website
---
---
---
---
Ingredients
1¼ cups all purpose flour
0.25 cup Wholewheat Flour
1 tsp instant yeast
0.5 tsp sugar
0.25 salt salt
2 tsp olive oil
0.5 cup Luke Warm Water
0.5 cup pizza sauce
1 cups mozzarella cheese
1 tbsp olive oil
to taste kosher salt, for sprinkling
---
Method
Combine all the ingredients for the dough in a medium mixing bowl. Mix and knead to form a smooth, pliable dough. Takes about 10 minutes by hand and 7~8 minutes on a stand mixer.
Transfer the dough to a lightly greased bowl, cover and set aside for about 1½~2 hours.
In a mixing bowl, combine pizza sauce and grated cheese.
Preheat the oven to 500°F. Line a baking sheet with parchment paper.
Gently deflate the dough and divide the dough into 2 equal pieces. Roll each piece into a ¼" thick rectangle that is 4" wide and 14~16" long.
Down one side of the dough, place about 1tsp of the filling about 1" apart. Fold the dough over the filling and pinch it close. Cut the dough around the filling and pinch all the seams shut. Repeat with the remaining dough.
Place the pizza pops on the prepared baking sheet. Brush the tops with olive oil and sprinkle lightly with kosher salt.
Bake for 8~10 minutes or until the pizza pops are golden and baked. Remove from the oven and serve hot. Enjoy!!