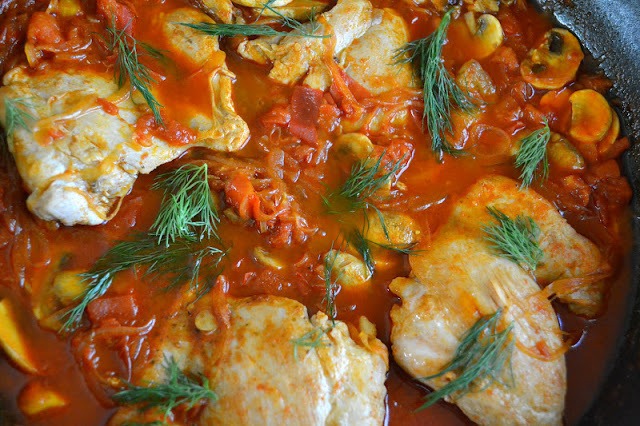 Chicken Paprikás
Recipe by The View From the Great Island
Visit website
---
---
How to Make Chicken Paprikás ~ this classic Hungarian chicken recipe is a little bit comfort, a little bit retro, and just a little bit spicy!
---
---
Ingredients
4 large skinless boneless chicken thighs, about 1 lb
salt and fresh cracked pepper
1 tbs butter or olive oil2 Tbsp butter
1 medium yellow or white onion
8 oz white mushrooms
4 or 5 medium tomatoes
1 tbsp sweet paprika
1 tbsp hot smoked paprika
1 cup chicken broth
0.5 cup sour cream
generous handful of chopped fresh dill
---
Method
Heat the butter and oil in a large skillet.  Season the chicken with salt and pepper, and then brown it on both sides in the hot pan.  Remove the chicken and set aside on a plate.
Add the oil to the pan and saute the onions, tomato and mushrooms for several minutes,  The onions should become softened, and the tomatoes begin to break down into a sauce.  Add the paprikas, stir, and saute a minute more.
Add the broth to the pan and stir to combine.  Nestle the chicken thighs back into the sauce, and bring to a simmer.  Simmer gently for about 15 minutes, covered, until the thighs are cooked through.
At this point, evaluate whether the sauce is just right, or too thin.  If it's too thin, take out the thighs and boil it down a bit.  Then add the thighs back in, swirl in the sour cream, sprinkle generously with fresh dill, and serve over hot buttered egg noodles.