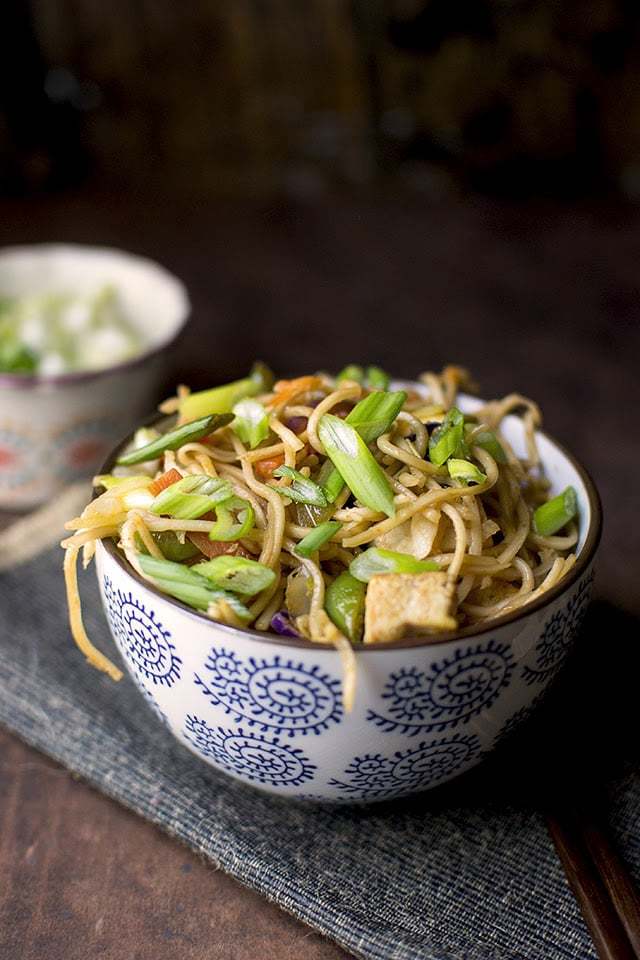 Hakka Noodles
Recipe by Cook's Hideout
Visit website
---
---
Recipe to make popular Indo-Chinese Hakka noodles with lots of vegetables and fried tofu.
---
---
Ingredients
1 200 gms packages Noodles Egg Noodles

(of Hakka or)

1 carrot

(Large , shredded or cut into thin matchsticks)

1 bell pepper

(, thinly sliced)

1 (1.25l) fish stock

(cupcabbage, shredded)

1 beans

(cupFrench , sliced)

1 (1.25l) fish stock

(cuptofu, drained, pressed and cubed)

1 onion

(Small , thinly sliced)

4 ~ 5 Green Onions

(, sliced)

1 tsp red chili

(flakes)

4 tbsps sesame oil

2 tbsps soy sauce

1 tbsp vinegar

to taste Salt

4 cloves garlic

1 ginger

(" piece, finely grated)

1 tbsp sriracha chili sauce

(or other)

2 tbsps Tomato paste Ketchup

(or)

1 tbsp sesame seeds
---
---
Method
Make the sauce: Blend all the ingredients for the sauce in a blender to a smooth paste. Make sure that the sauce is not too runny.
Cook the noodles as per package directions (put the noodles into boiling water and boil for 3~4 minutes, then drain and spread on a large plate or baking sheet with a drizzle of oil to avoid sticking together.
In a large wok or skillet, heat 2tbsp sesame oil and add the cubed tofu. Cook on medium high heat until golden brown on all sides. Remove onto a paper towel lined plate and set aside.
Wipe the wok or skillet and heat 2tbsp sesame oil, add chili flakes and onions. Cook on medium-high heat until the onions turn translucent. Add the ground paste and salt; cook for 2~3 minutes or until the raw taste of the garlic disappears.
Lower the heat and add soy sauce and vinegar. Mix well.
Increase the heat and add the bell pepper, carrot and beans; Cook till the veggies are crisp tender, they should still retain their color and crunch.
Add the shredded cabbage and cook for 1~2 minutes. Finally add the noodles, combine till all the ingredients are well mixed together. Cook for 3~4 minutes for the flavors to mingle. Sprinkle with chopped green onions and serve hot!!