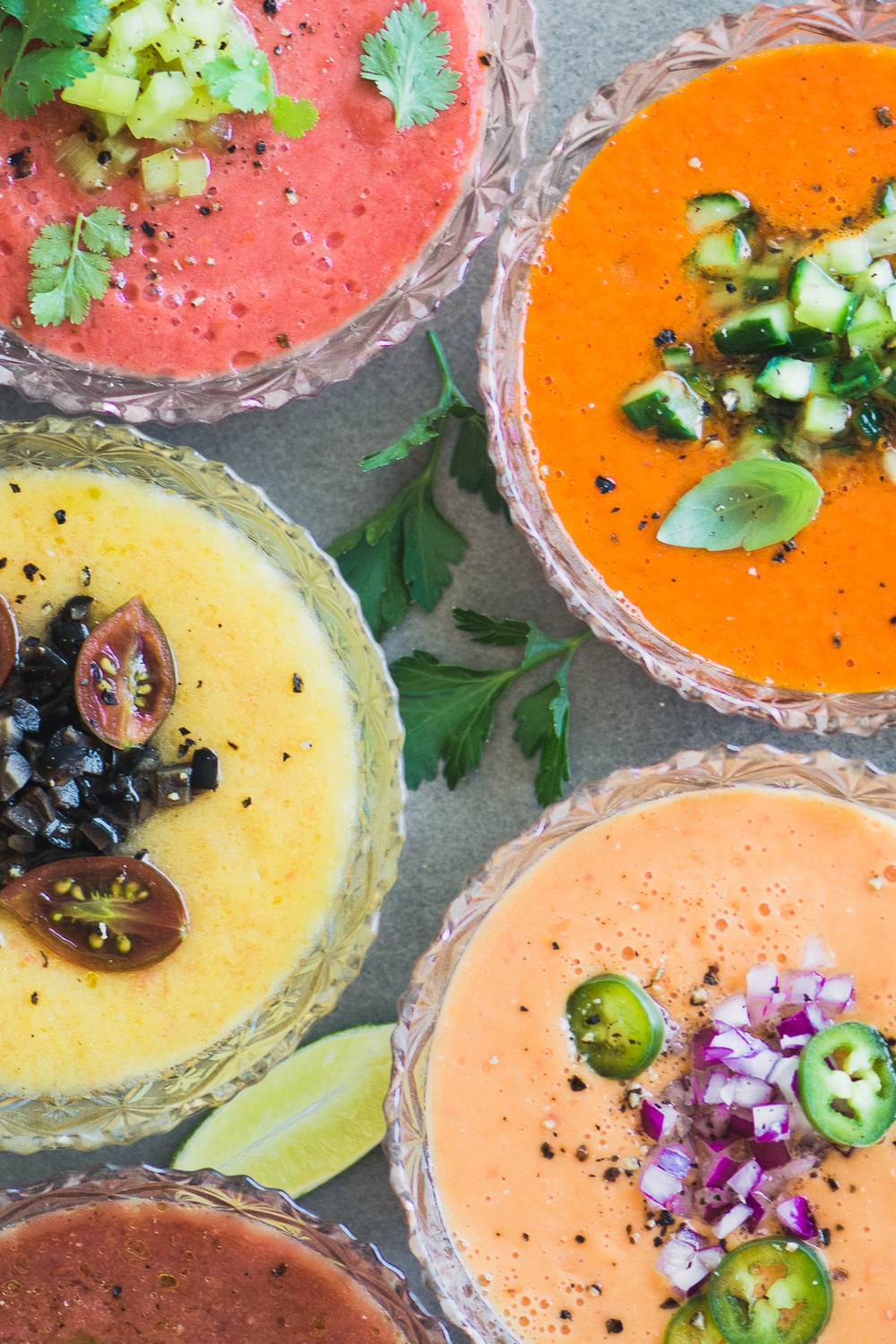 Heirloom Tomato Gazpacho
Recipe by The View From the Great Island
Visit website
---
---
Heirloom Tomato Gazpacho ~ I've stepped up this healthy raw tomato soup from Spain with gorgeous heirloom tomatoes for a colorful summer treat!
---
---
Ingredients
4 large assorted heirloom tomatoes
8 tbsp extra virgin olive oil
4 tbsp sherry vinegar
4 peeled garlic cloves
salt and fresh cracked pepper to taste
0.5 cup finely minced cucumber
0.5 cup finely minced yellow bell pepper
0.5 cup finely minced pale green cubanelle pepper
0.5 cup finely minced red onion
2 tbsp finely minced black olives
garnish
cilantro leaves
basil leaves
thinly sliced jalapeno
---
Method
Work with each color tomato separately. Cut the tomato in large chunks and add to a food processor or high speed blender. Add 2 tablespoons of olive oil, 1 tablespoon of vinegar, and one garlic clove, if using. Blend until smooth. Add salt and fresh cracked black pepper to taste. Do this with all four of your tomatoes and then refrigerate the purees until they are nice and cold before serving.
When ready to serve, put some of the minced cuke, onion, and pepper in the bottom of each of 4 small bowls. Fill each bowl with gazpacho, and then top with a contrasting color of cuke, pepper, onion, or olives.
Serve cold, garnished with fresh herbs and jalapeno slices. I like more cracked pepper, too.