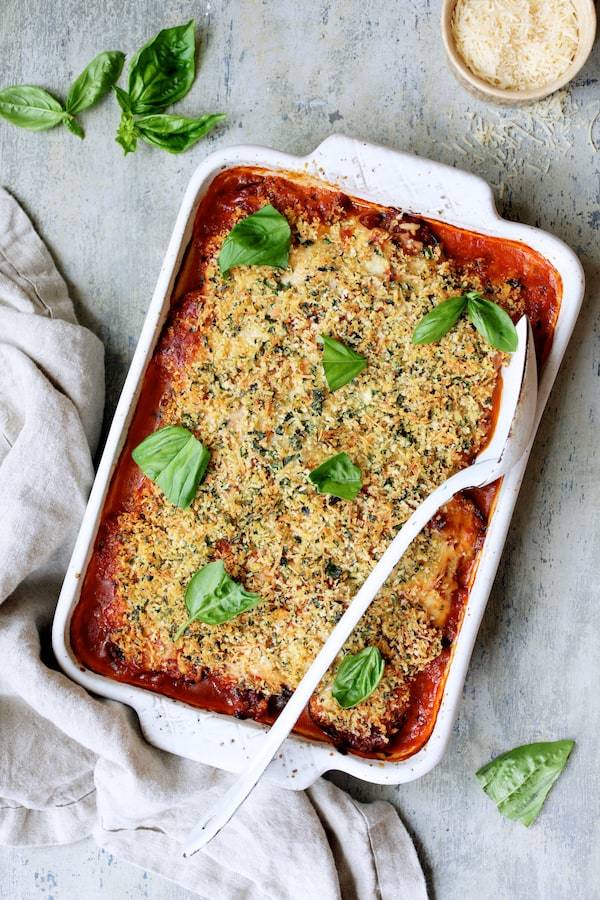 Italian Summer Vegetable Casserole
Recipe by From a Chef's Kitchen
Visit website
---
---
Italian Summer Vegetable Casserole is the best of summer produce in a beautiful Mediterranean-inspired dish with grilled vegetables, marinara and cheese!
---
---
Ingredients
1 medium eggplant
2 small to medium yellow squash
2 medium zucchini
1 large red bell pepper
1 large yellow bell pepper
0.25 cup olive oil
salt and freshly ground black pepper
cooking spray
1 jar (24-ounce) marinara sauce such as Bertolli Olive Oil and Garlic
2 large sprigs fresh basil
3 cups shredded mozzarella cheese
1 cup freshly grated Parmesan cheese
0.5 cup panko
2 tablespoons chopped fresh parsley
---
Method
Preheat a grill to medium-high. Lightly brush vegetables with 1/4 cup olive oil. Place vegetables on the grill, reduce heat to medium. Cook vegetable until nicely marked and slightly softened, except for eggplant. Cook eggplant until easily pierced with a knife.
Preheat oven to 375 degrees. Spray a 13 x 9-inch baking dish with cooking spray.
Spread approximately 1/2 cup marinara sauce over the bottom of the prepared baking dish.
Place zucchini over the sauce to cover the bottom, then top with 1/2 cup of the marinara and sprinkle with approximately 1/2 cup of the Mozzarella, a sprinkling of Parmesan and some torn basil. Top with red bell pepper.
Top with remaining zucchini and yellow squash, 1/2 cup sauce, 1/2 cup Mozzarella, more Parmesan and more torn basil.
Top with yellow bell pepper then eggplant.
Pour remaining marinara sauce over the casserole. Top with remaining Mozzarella and more Parmesan, leaving approximately 1/4 cup for the topping.
Combine remaining 1/4 cup Parmesan, panko, parsley and remaining 2 tablespoons olive oil in a small bowl. Sprinkle over the top of the casserole.
Bake for 45 minutes or until bubbling and topping is lightly browned.