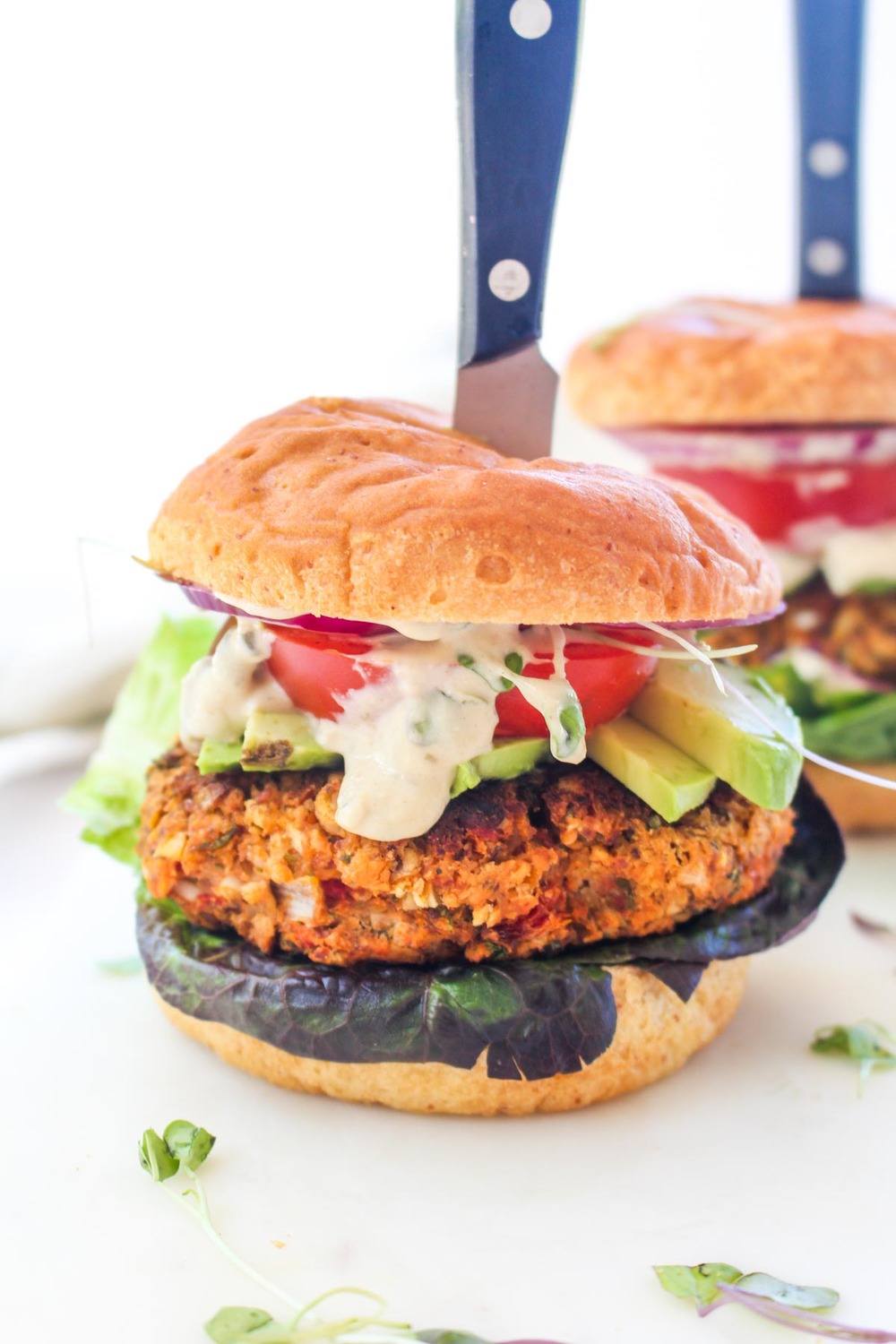 Mediterranean Chickpea Burgers
Recipe by Catching Seeds
Visit website
---
---
---
---
Ingredients
1 cup sun dried tomatoes
1 - 15 oz . can chickpeas
0.5 onion
3 cloves garlic
0.25 cup parsley
1 tablespoon Italian seasoning
0.5 teaspoon smoky paprika
1.5 teaspoon salt
0.5 teaspoon pepper
1 zest of lemon
0.5 cup gluten-free quick oats
0.33333333333333 cup hummus
0.25 cup flax seed meal plus 1/4 cup water
1 tablespoon dijon mustard
1 teaspoon honey
lemon Caper sauce:
2 tablespoons Tahini
2 tablespoons plain hummus
1 tablespoon capers
1 teaspoon lemon zest
2 tablespoons lemon juice
water to thin
---
Method
Add the sun dried tomatoes into a large food processor fitted with an S blade and pulse until coarsely chopped. Add in the chickpeas, onions, and garlic, and pulse until the mixture is resembles course crumbs. Add to a bowl and add in the remaining ingredients. Stir to combine. Cover and place in the fridge overnight to chill.
Preheat the oven to 425 degrees. Grease a baking sheet with non stick spray. Set aside.
Remove the burger mixture from the fridge and form into 4 burger sized patties. Place on the baking sheet and bake for 20 minutes. Flip the burgers over and bake for another 15 minutes. Remove from the oven and cool for ten minutes before serving.
While the burgers are cooking, whisk together all of the sauce ingredients, adding enough water until you reach the consistency of mayo.
✅ Vegan
✅ Vegetarian
✅ Gluten free