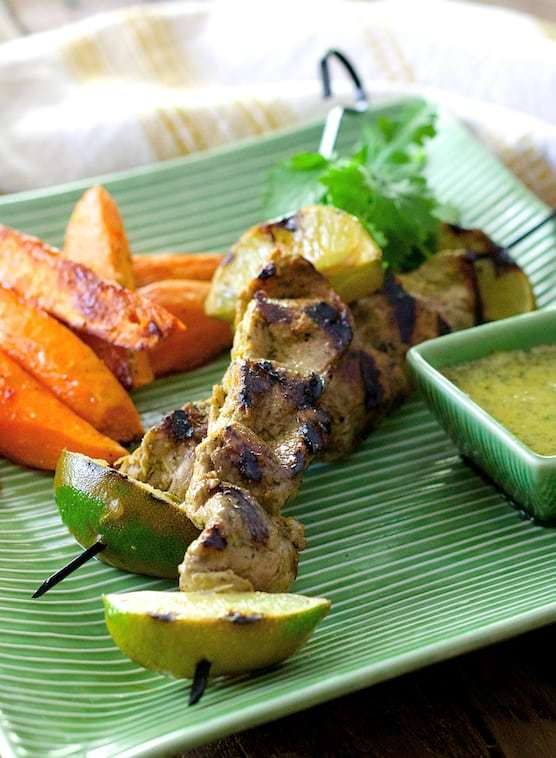 Mojo Pork Skewers and Pepper Jelly Glazed Sweet Potatoes
Recipe by From a Chef's Kitchen
Visit website
---
---
Are you experiencing a case of late summer grilling boredom? These bold, citrusy Mojo Pork Skewers and Pepper Jelly Glazed Sweet Potatoes just might bring your grilling mojo back.
---
---
Ingredients
skewers
0.5 cup freshly squeezed orange juice
0.5 cup freshly squeezed lime juice
2 scallions
0.25 cup fresh oregano
0.25 cup chopped fresh cilantro
4 cloves
0.33333333333333 cup extra-virgin olive oil
2-3 tablespoons brown sugar
1.5 tablespoons ground cumin
0.5 teaspoon crushed red pepper flakes
salt and freshly ground black pepper
1 lb pork tenderloin
2 limes
cilantro sprigs
sweet POTATOES
3 small sweet potatoes
1 tablespoon olive oil
salt and freshly ground black pepper
2 tablespoons pepper jelly
1 tablespoon apple cider vinegar
---
Method
SKEWERS
Combine first 12 ingredients in a food processor or blender; process until smooth. Transfer 1 cup to a small bowl to reserve for dipping sauce. Transfer the remainder to a zipper-top bag.
Cut the pork into four strips lengthwise. Place in the zipper-top bag with the marinade, seal and refrigerate up to 4 hours, turning after 2 hours.
Preheat a grill to medium-high. Thread a lime quarter on each of four skewers then thread pork strips onto skewers, followed by another lime wedge.
Place skewers on the grill, reduce heat to medium and cook 5-6 minutes per side or until cooked to at least 145 degrees. Serve with reserved dipping sauce. (The sauce may have separated; stir to blend before serving.)
Garnish with fresh cilantro sprigs.
SWEET POTATOES
Preheat oven to 400 degrees. Line a baking sheet with heavy-duty aluminum foil. Toss potatoes with olive oil, salt and black pepper. Roast for 15 minutes.
While potatoes are roasting, combine pepper jelly and vinegar in a microwave-safe bowl. Heat on medium in 15-second increments until melted and smooth.
When the potatoes have roasted for 15 minutes, turn them over and pour glaze over the potatoes. Reduce heat to 375 degrees. Roast another 15-20 minutes or until potatoes are tender. After plating, drizzle with excess glaze from the baking sheet. Serve with pork skewers.