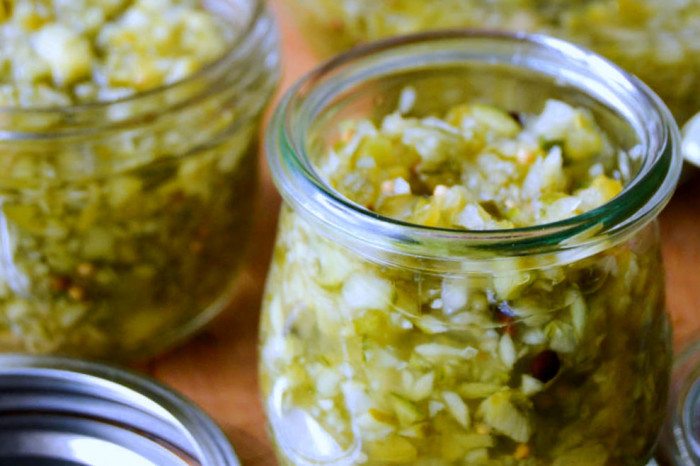 Old Fashioned Relish
Recipe by The View From the Great Island
Visit website
---
---
How to make Old Fashioned Relish from scratch
---
Servings
makes about 2 cups
---
Ingredients
1 lb small pickling cucumbers

½ cup kosher salt

½ medium white onion

½ green bell pepper

1 jalapeno peppers

1½ cups white vinegar

½ cup sugar

1 tbsp cloves

1 tbsp allspice berries

1 tbsp yellow mustard seeds

1 tbsp whole coriander
---
---
Method
Wash and slice the ends off the cucumbers. Give them a rough chop and put them in a food processor. Pulse until the pickles are finely chopped. Remove to a bowl.
Cover the chopped pickles with cold ice water and stir in the salt. Let sit for 4 hours. Replace ice as necessary.
Drain the pickles and then cover with fresh water. Let sit for another hour.
Give the onion a rough chop and then pulse it in the food processor until finely minced. Do the same for the green pepper, and the jalapeno. Do each separately, otherwise you won't get an even chop.
Drain the pickles well, and add the onions, and peppers. Mix well.
In a small saucepan, add the sugar and vinegar and stir to combine. Tie up the cloves and allspice berries in a little cheesecloth so you can retrieve them later. I forgot to do this and just fished them out at the end. Add the mustard seeds and coriander pods directly to the pot. Bring the mixture to a boil and turn off the heat.
Pour the hot liquid over the veggies. Cover and let sit in the refrigerator for 24 hours.
Remove the cloves and allspice. Now you are ready to pour your relish in jars. You can can it if you like, but if you keep this small batch in the refrigerator it will stay good for at least a month. Spoon it into clean jars, and cap tightly. Your relish is ready to eat!