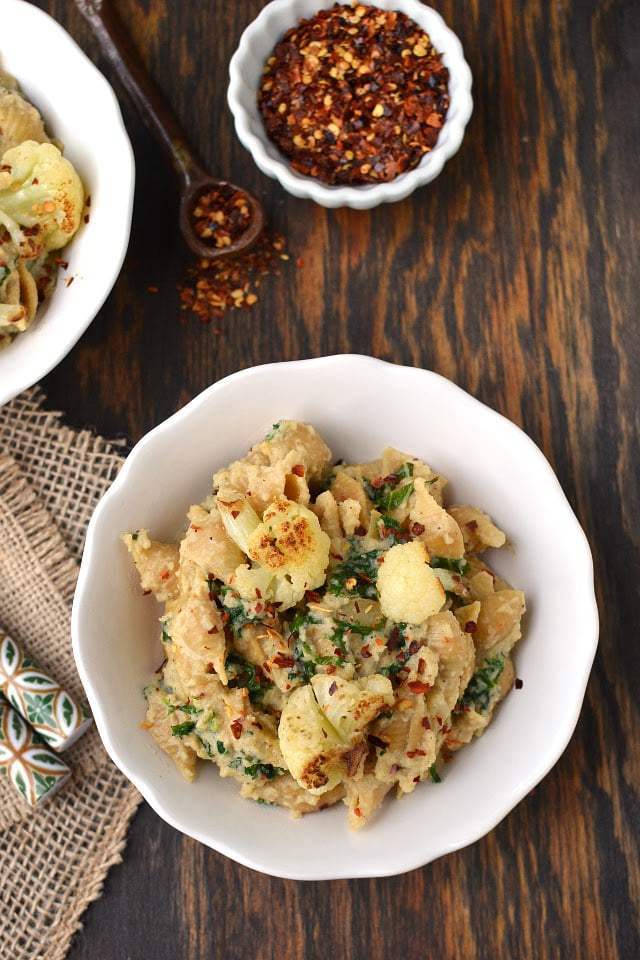 Pasta with Roasted Cauliflower Sauce
Recipe by Cook's Hideout
Visit website
---
---
Pasta sauce made with roasted cauliflower -- it is completely dairy and vegan.
---
---
Ingredients
---
---
Method
Preheat the oven to 425°F. Line a baking sheet with foil.
Place the cauliflower florets and the garlic on the baking sheet. Drizzle 1tbsp olive oil, salt and pepper and toss around to evenly coat cauliflower. Bake for 20~30 minutes, stirring them half way through, until cauliflower is tender and slightly browned around the edges.
Cool the baked cauliflower and peel the garlic out of their papery shells. Reserve some of the roasted cauliflower for garnish. Once cool enough to handle, blend into a smooth paste adding water as needed. Milk can also be used instead of water.
While the cauliflower is baking and cooling, prepare the pasta as per package instructions. Drain and reserve a cup of cooking water.
In a medium pan, heat 2tsp olive oil and add onions and kale; cook for 4~5 minutes or until kale is wilted.
Slowly add in the cauliflower puree along with red chili flakes, nutritional yeast, salt & pepper. Add enough water or milk to get to desired consistency. Simmer for 3~4 minutes.
Finally add the cooked pasta and mix well. If the mixture seems too thick, then add some of the pasta cooking water. Top the pasta with the reserved roasted cauliflower and Serve hot.