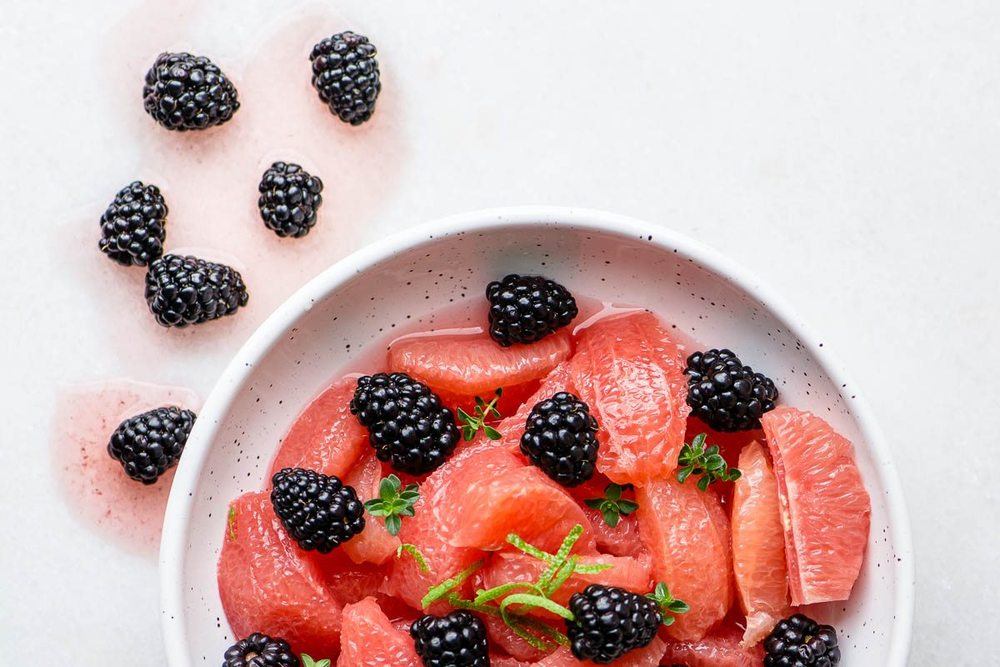 Pickled Blackberry and Grapefruit Salad
Recipe by The View From the Great Island
Visit website
---
---
There's fruit salad, and then there's fruit salad. One bite of this pickled blackberry and grapefruit salad and you'll know what I mean. Serve it as a refreshing first course, over greens for a light lunch, or drizzled with honey over creamy yogurt for breakfast. Yum.
---
---
Ingredients
pickled blackberries

6 ounces blackberries, rinsed, plus 2-3 extra berries

½ cup cider vinegar

½ cup water

1 tbsp pickling spice

(find it in the spice aisle of your supermarket)

2 pink grapefruits, sectioned

garnish

lime zest

thyme leaves
---
---
Method
To make the pickled blackberries, carefully fit your berries into a jar, taking care not to bruise them. A wide mouthed canning jar works well. Reserve 2 or 3 berries for later.
Heat the vinegar, water, and spices in a small saucepan until it comes to a simmer. Turn off the heat and let cool.
Strain the brine, then crush 2 or 3 berries and stir into the brine. Pour the mixture over the berries, making sure all the berries are completely submerged. Add more water if necessary. Cover and let sit for 4 hours.
Put the grapefruit sections in a serving bowl and add the pickled berries, along with a tablespoon or two of the pickling liquid.
Serve with a garnish of lime zest and fresh thyme leaves if you like.