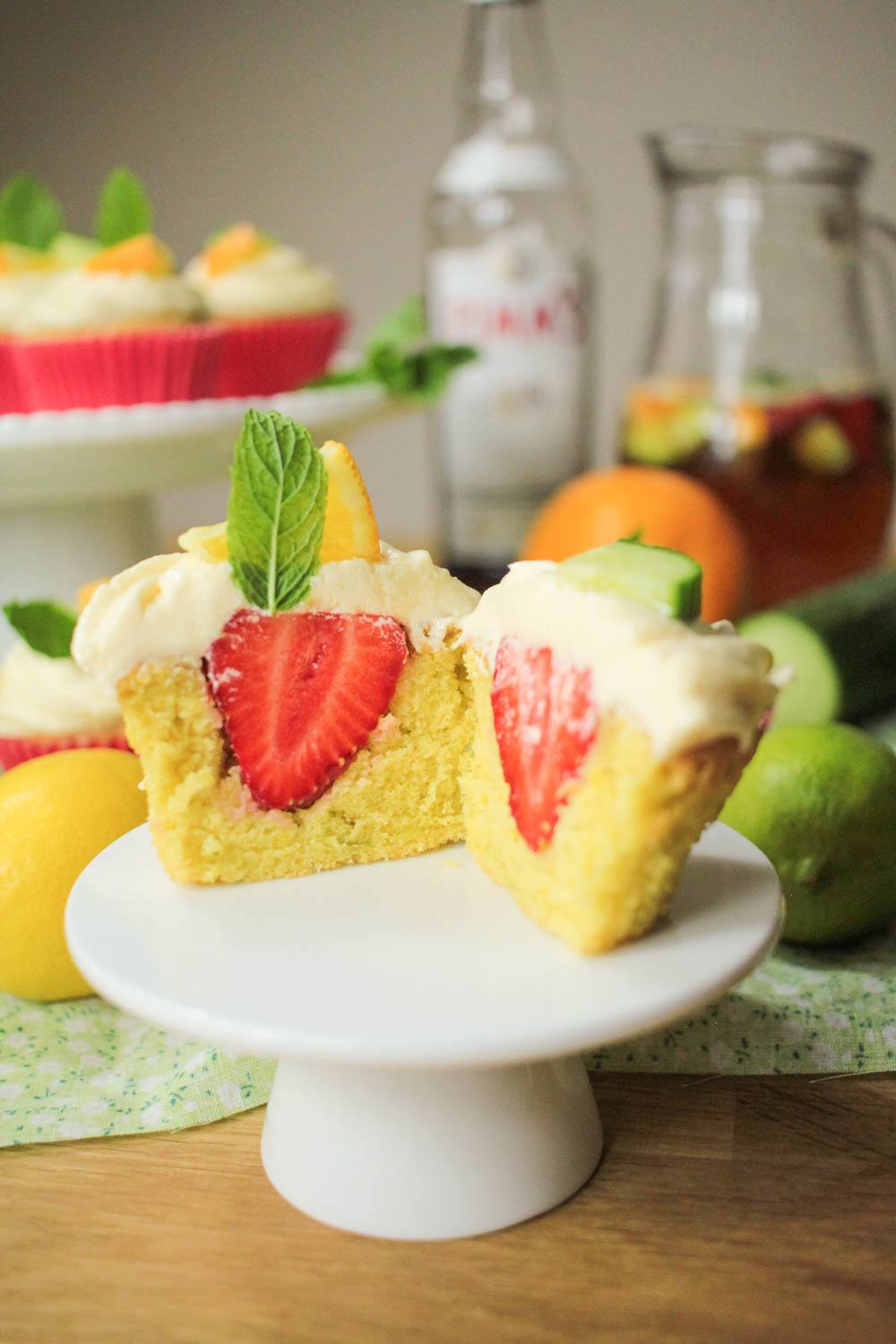 Pimm's Cupcakes
Recipe by Globe Scoffers
Visit website
---
---
It's Pimm's o'clock with these delicious cupcakes!
---
---
Ingredients
200 g caster sugar

200 g margarine/unsalted butter

4 eggs

((beaten))

200 g self-raising flour 

1 tsp baking powder

1 tsp lemon extract

2 lime zest

2 lemon zest

12 fresh strawberries

3 slices of cucumber

(cut into quarters )

12 orange slices

12 mint leaves

220 g margarine/unsalted butter

640 g icing sugar

5 tbsp Pimm's
---
---
Method
Heat the oven to 190°C / fan 170°C / gas 5. And line a 12 hole muffin tin.
Cream together the butter, sugar, lime and lemon zest with electric whisk (I use a Kitchen Aid).
Add the eggs and mix.
Add the flour, baking powder and continue to whisk together until everything is combined.
Add the lemon extract and give your mixture a final stir.
Divide the mixture evenly into the muffin cases and bake for 15-20 minutes.
Take out of the oven and transfer to a metal rack. While your cakes are cooling make your Pimm's frosting.
Cream the butter on its own for about 5 minutes on a medium speed.
Sift the icing sugar into the creamed butter and then mix together on a slow speed. Gradually increase the speed until it forms a thick paste.
Add the Pimm's a little at a time, you don't want your mixture to be too runny. Then whisk together for one minute. Set aside.
Cut a hole out of the centre of each cake and place a fresh strawberry into it. Make sure they are already washed, the green stalks are taken off and the top is sliced off
Once each cake has a strawberry in the centre, place your frosting into the piping bag with the nozzle of your choice. Pipe each cake and decorate it with a cucumber quarter, orange slice and a fresh mint leaf. I do advise to decorate the day you plan to eat them as the fruit may go a little dry.
Serve and enjoy! The cupcakes should last for 2 days. Best eaten on the day.