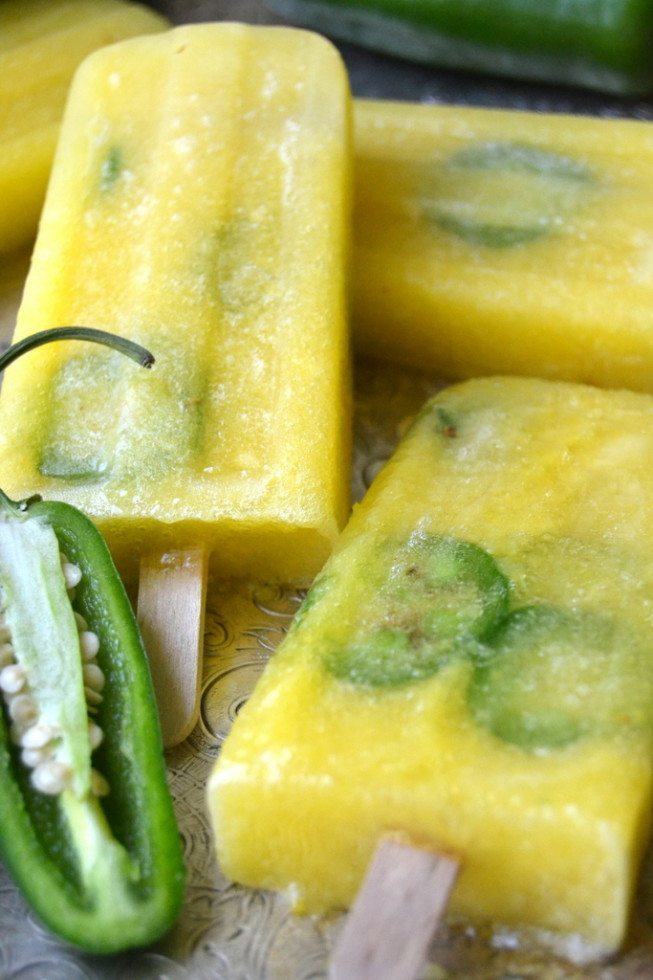 Pineapple Jalapeno Popsicles
Recipe by The View From the Great Island
Visit website
---
---
These Pineapple Jalapeño popsicles unique and delicious!  The  icy cold - sweetness of the pineapple hits your tongue at the same moment the heat of the jalapeño kicks in.
---
Servings
makes 10 popsicles
Cuisines
Courses
---
Ingredients
for juice pops

1-2 jalapeno peppers

3 cups pineapple juice, fresh or canned.

3 tbsp dark rum

(optional)

for whole fruit pops

1 small (or 1/2 large) pineapple

1 -2 jalapeno peppers

3 tbsp dark rum

(optional)
---
Method
FOR THE JUICE POPS: trim the tops off the peppers and thinly slice them. If you don't want a lot of heat, remove the seeds. Mix them with the juice and the rum, if using. Alternatively, you can finely chop the peppers and mix them with the juice before filling your mold.
If you are using the sliced peppers, they can sometimes float to the top. If you want them dispersed throughout the pop it helps to freeze half the juice and peppers first, then add the rest.
FOR THE WHOLE FRUIT POPS: remove the rind and core from the pineapple, Give it a rough chop and puree it in a food processor. You will need about 3 cups.
Slice or dice the peppers, and stir into the puree, along with the rum, if using.
Fill the molds, adjusting the position of the pepper slices, if necessary.
For either version, cover the mold with foil and insert the sticks.
Freeze until solid, 4-5 hours or overnight.
To unmold the pops, fill your sink with hot tap water. Immerse the mold up to, but not over, the top edge for 15 seconds. If the pops don't slice out easily, immerse for a few more seconds.
Store in plastic baggies in the freezer.