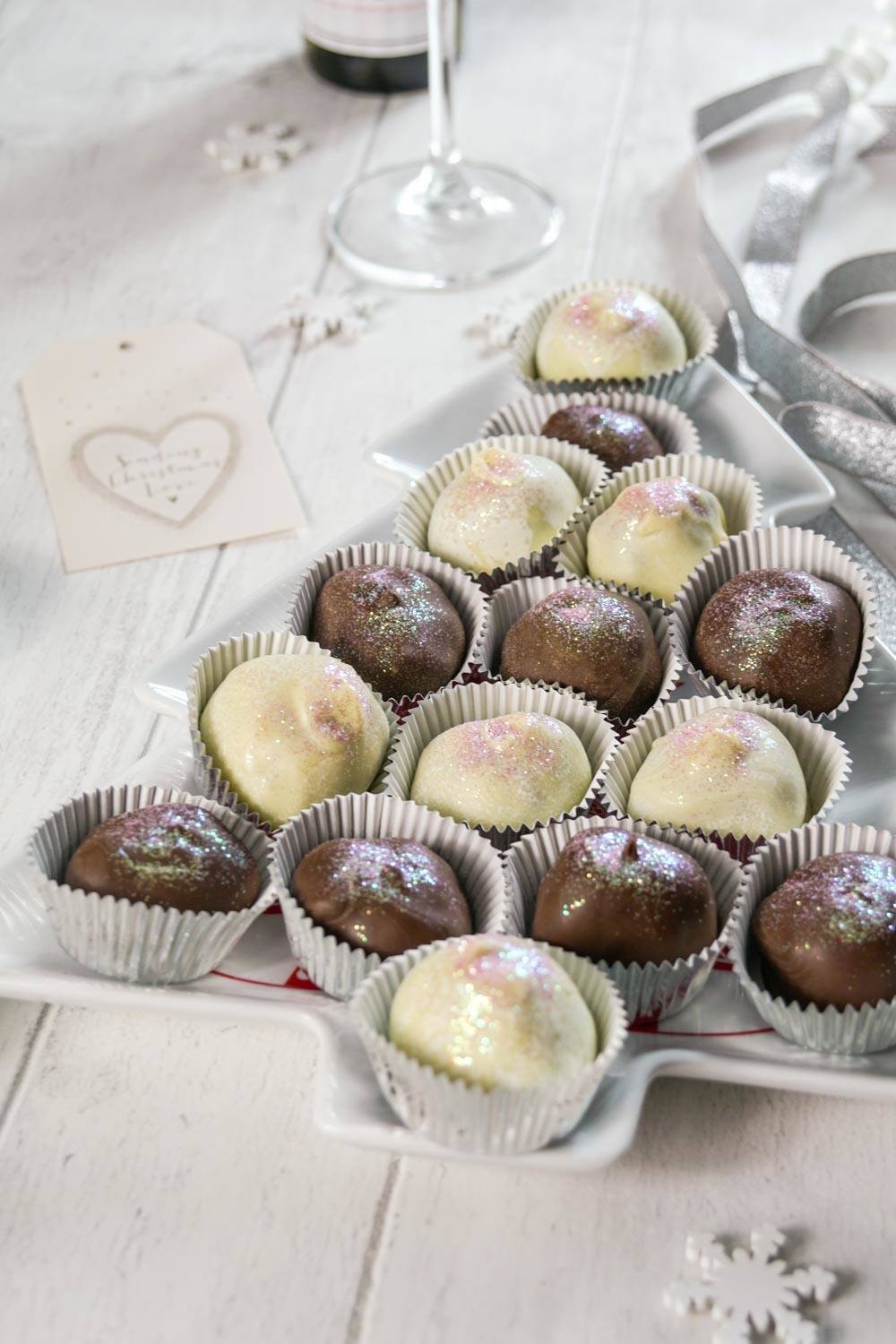 Prosecco Truffles
Recipe by Globe Scoffers
Visit website
---
---
---
---
Ingredients
300 g dark cooking chocolate (good quality cooking chocolate - at least 70% cocoa (I use Green and Black's
300 g double cream
50 g unsalted butter
2 tbsp prosecco
150 g white Chocolate
150 g Milk Chocolate
pink edible dust
vegetable oil
baking paper
24 mini cases
---
Method
Warm the cream in a saucepan on a medium heat. Do not allow it to boil. Turn the heat down when you start to see tiny bubbles. Add the butter.
Remove your mixture from the heat and break your chocolate into the mixture. Using a balloon whisk gently stir so the chocolate melts.
If your mixture splits a little add a splash of cold tap water.
Whisk quite firmly so all the mixture is combined together. Add the prosecco and give it one further whisk.
Pour your mixture into a bowl and place in the fridge for 2 hours. Be sure to take out the fridge 20 minutes before you want to mould them to reach room temperature.
Once your mixture is set, melt the white chocolate in a microwave on a gentle heat, keep checking every 30 seconds until it has melted. One it has melted, add a tiny amount of vegetable oil to loosen your mixture, add more if needed.
Place a large sheet of baking paper on to the work surface. Using a small spoon get some truffle mixture and using your hands mould into balls, then place on the sheet.
To make it easier to coat your truffles use a thin metal stick or cocktail stick. Insert it in the centre of the truffle, but not all the way through. Holding the stick, place the truffle into the melted chocolate until it is completely covered. You might want to spoon a little chocolate on.
Make sure all the excess chocolate has dripped off and place the truffle on to the baking paper and gently pull out the stick. If there is a tiny hole use your stick or spoon to to fill back in with the chocolate.
Repeat this until all the white chocolate has gone. Then do the same with the milk chocolate. Leave them all on the baking paper to dry. Once they have dried sprinkle them with pink edible dust.
Place each truffle into a tiny case. Bag them up and place in the fridge.
These are great for presents! Enjoy.