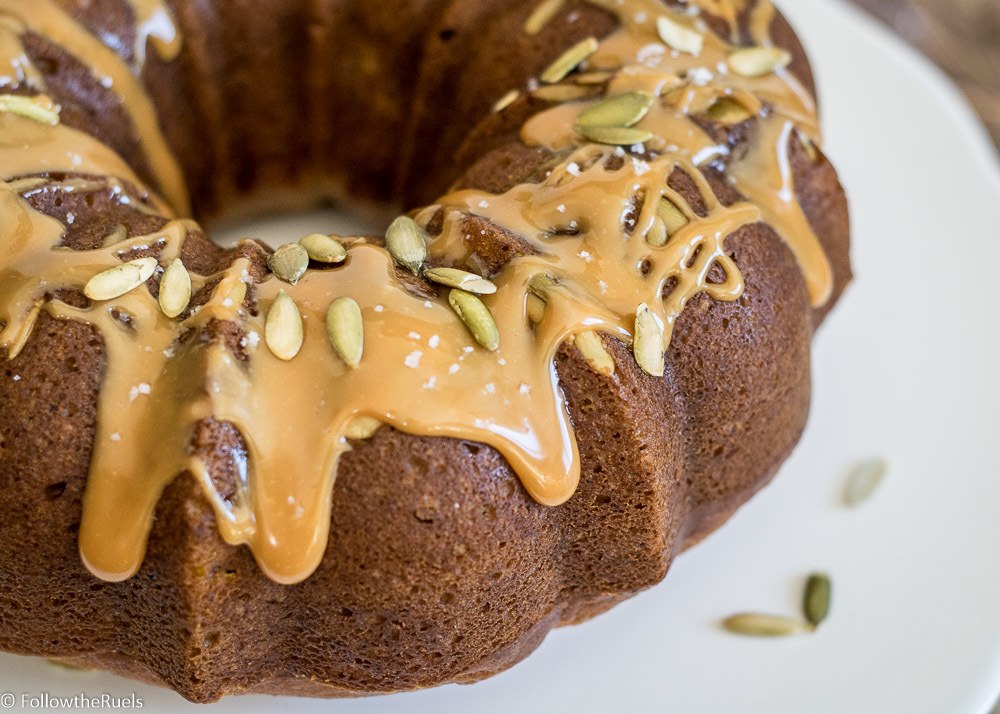 Salted Caramel Pumpkin Apple Bundt Cake
Recipe by Follow the Ruels
Visit website
---
---
This is like apple pie filling meets a pumpkin cake. It's the perfect Fall flavor combination. And the salted caramel just sent it over the top. Literally the icing on the cake.
---
---
Ingredients
1 granny Smith Apple
1 tbsp butter
1 tbsp sugar
1 tsp cinnamon
3 cups flour
2 tsp baking soda
1 tsp cinnamon
0.5 tsp nutmeg
0.5 tsp salt
0.25 tsp clove
1.5 cup granulated sugar
0.5 tbsp brown sugar
0.5 cup butter
3 eggs
1 cup pumpkin puree
0.5 cup milk
0.25 cup salted caramel sauce
additional sea salt
pumpkin seeds
---
Method
Preheat oven to 350 degrees. Generously spray a bunt cake pan with baking spray or butter.
In a medium saute pan, sautee apples, butter, sugar, and cinnamon over medium heat until sugar has dissolved and apples are soft. Take apples off the heat and set aside.
To make the cake batter, first whisk together the flour, baking soda, and spices in a medium bowl. Set aside.
In a large bowl, cream together the butter and sugars until light and fluffy. Beat in the eggs and pumpkin. Mix in 1/3 of the flour mixture, then 1/4 cup of the milk. Mix in half of the remaining flour, then the other 1/4 cup milk, finishing with the rest of the flour.
Fold in the apples and pour into the prepared pan. Bake for 55-60 minutes, or until a toothpick comes out clean.
Once the cake has cooled, turn it out onto a cooling rack or plate and remove from the pan. Drizzle prepared caramel sauce over top, then sprinkle with sea salt and pumpkin seeds.