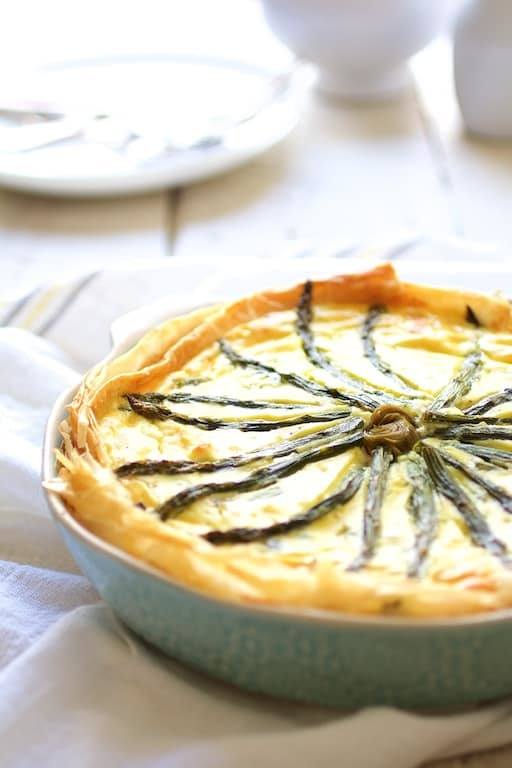 Spring Vegetable Pie with Feta Cheese and Filo Crust
Recipe by From a Chef's Kitchen
Visit website
---
---
The best vegetables of spring--asparagus, artichokes and baby spinach--come together in this Greek-inspired vegetable pie with feta cheese and filo crust.
---
---
Ingredients
salt

1 stick unsalted butter

1 bunch asparagus

(approximately 1 pound)

2 tablespoons olive oil

((divided))

10 ounces fresh baby spinach

4 cloves garlic

(minced)

freshly ground black pepper

(to taste)

15 filo dough/pastry sheets

(or as needed)

½ cup freshly grated Parmesan cheese

1 cup feta cheese

(divided)

1 (12-ounce bag) frozen artichoke hearts

(thawed and squeezed of excess moisture, coarsely chopped)

1 cup ricotta cheese

4 eggs

(beaten)

1½ cups half-and-half
---
---
Method
Preheat oven to 375 degrees. Place the butter in a small stainless steel bowl and set in the oven to melt while the oven is preheating.
Bring a small pot of generously salted water to a boil. Prepare an ice bath.
Drop the asparagus into the boiling water to blanch it. Give it 15-20 seconds to turn vivid green. Immediately remove from the boiling water and drop into the ice bath. Cool, then drain and pat dry with paper towels.
Heat olive oil in a large skillet or saute pan. Add spinach and garlic and cook until wilted. Season to taste with salt and black pepper. Transfer to a sieve or colander to drain, then gently press out as much water as possible.
Prepare crust. Brush a 9-inch pie pan or other round baking dish (9 to 10-inch diameter) with melted butter. Begin layering the filo pastry to form a crust: Carefully brush each sheet with melted butter, then place in the pie pan to form a layered crust. (Don't worry if crust doesn't fit perfectly, just layer, fold and form as needed.)
Place an empty baking sheet in the oven to preheat.
Sprinkle bottom of crust with Parmesan cheese, then layer as follows: Spinach, 1/2 cup feta cheese, artichoke hearts except for two, remaining 1/2 cup feta cheese.
Whisk together ricotta, eggs and half-and-half. Season with salt and black pepper. Carefully pour over the filling that you've assembled thus far.
Place as much asparagus as will fit around the top of the pie in a circular or pinwheel manner (reserving any left over for another use). Place remaining two artichoke hearts in the center if you can't get the asparagus to meet neatly in the center. (If they don't want to sit upright, place them in when the pie is nearly baked.)
Place on the hot baking sheet and bake 45-50 minutes or until lightly browned and set.