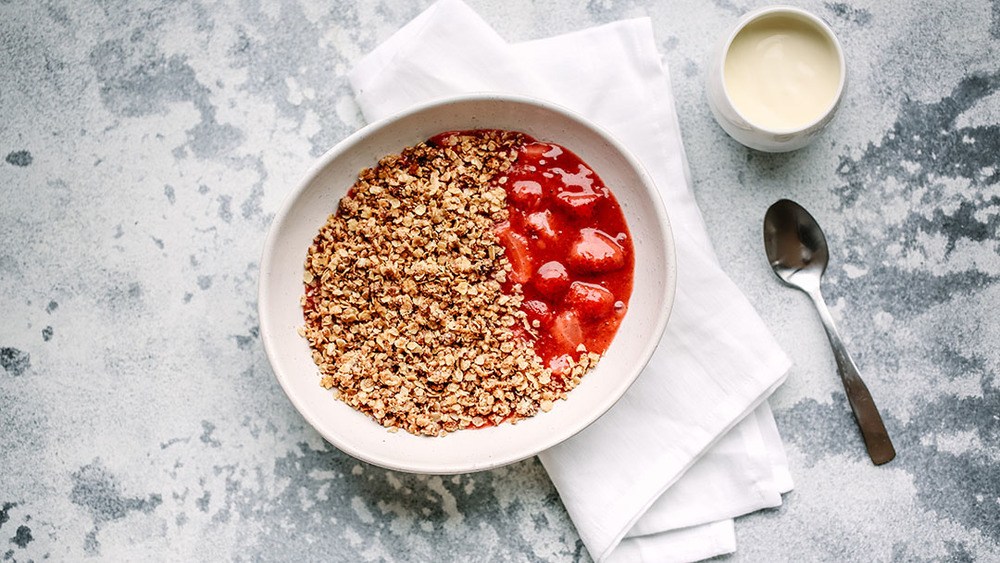 Super Easy Stove Top Crumble
Recipe by You Totally Got This
Visit website
---
---
Thanks to this easy stove top crumble recipe, you can have a bowl of sweet, sticky, crunchy, golden crumble on the table in just 20 minutes.
---
---
Ingredients
500g g fresh strawberries
1 tbs of rice malt syrup or honey
1 tbs fresh lemon juice
1 tsp vanilla essence
1½ tbs of plain flour, regular or gluten free depending on your dietary requirements
cremini mushrooms
1 cup rolled oats or quinoa flakes, depending on your dietary requirements
cremini mushrooms
1 tbs rice malt syrup 
2 tsp cinnamon
cremini mushrooms
cream or yoghurt (regular or coconut).
---
Method
Rinse and hull the strawberries then place them into a saucepan with the rice malt syrup/honey, lemon juice, vanilla essence, flour and water. Transfer the saucepan to stove and cook the strawberry mixture over a medium heat until the strawberries have broken down and the mixture is thick, stirring occasionally. This will take about 10 minutes.
When the berry filling is nearly ready, melt the butter/coconut oil in the microwave. Heat a frying pan over medium heat and stir in the melted butter/coconut oil, oats/quinoa flakes, almond meal, rice malt syrup/honey, cinnamon. Cook the topping for a few minutes until browned and crumbly. Remove from heat.
Divide the berry topping between 4 bowls and sprinkle the crumble mixture on top. Serve with a dollop of cream or ice cream.