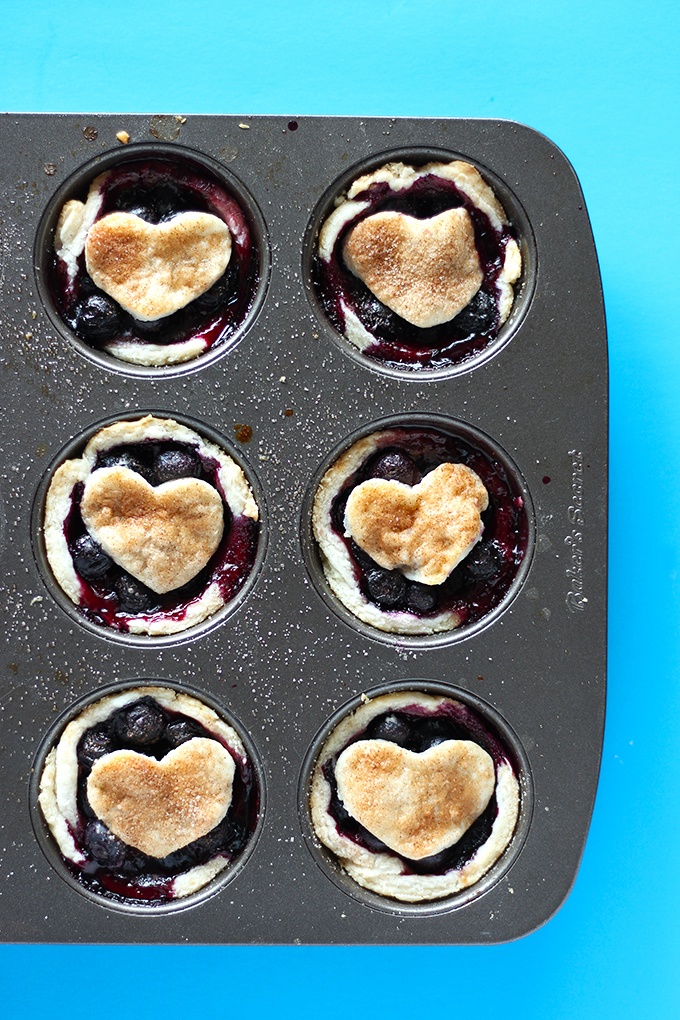 Vegan Blueberry Mini Pies
Recipe by Sweet Like Cocoa
Visit website
---
---
The goodness of vegan blueberry pie, in MINI form! This is an absolutely delicious, perfectly portioned vegan dessert!
---
---
Ingredients
blueberry Filling:

~2 1/2 - 3 cups blueberries, fresh

(exact quantity will depend on how large the berries are)

½ cup brown sugar

½ cup white sugar

2 tbs cornstarch

1 tbs lemon juice

¼ tsp cinnamon

frozen peas

pie Crust:

2½ cups all-purpose flour

¾ cup coconut oil

(solid)

½ tsp salt

4 tbs water, ice cold

frozen peas

topping:

1 tbs dairy free milk

1 tbs sugar mixed with 1/4-1/2 tsp cinnamon
---
---
Method
Blueberry Filling:
Add all filling ingredients to a bowl and stir to combine
Set aside until ready to use
Pie Crust:
Preheat oven to 425 °F
Grease a 12 cavity muffin tin very well and set aside
In a large bowl, combine flour and salt and stir together
Add solid* coconut oil to flour. Cut the oil into the flour using a pastry cutter or two forks
Add in ice cold water 1 tbs at a time, and stir together until the mixture forms a dough (take care not to over mix**)
Turn dough out onto well floured surface and roll out to a thickness of about 5mm
Using a round cookie cutter of 2.5 - 3" diameter (or the edges of a small bowl/cup) cut 12 circles out of the dough and set aside
Use the scraps to gently reform the dough and roll out again
Using a heart cookie cutter (as I did) or another other shape you'd like, cut out 12 shapes to cover the pies
Take your 12 circles and gently roll them out to flatten a bit
Gently place the circles into the cavities of your muffin tin. You can let the edges of the crusts curl in the cavity or you can press the edges into the sides to smooth them out
Divide the pie filling between all 12 cavities, and cover each pie with a heart (or other) shaped crust
Brush the tops of the pies with some dairy free milk and sprinkle with cinnamon sugar
Bake in preheated oven for 16-19 minutes, or until the tops are firm and the edges are beginning to brown
Allow to cool in pan before removing
Serve warm or cold, with coconut whip cream, dairy free ice cream or just by themselves!
Enjoy!