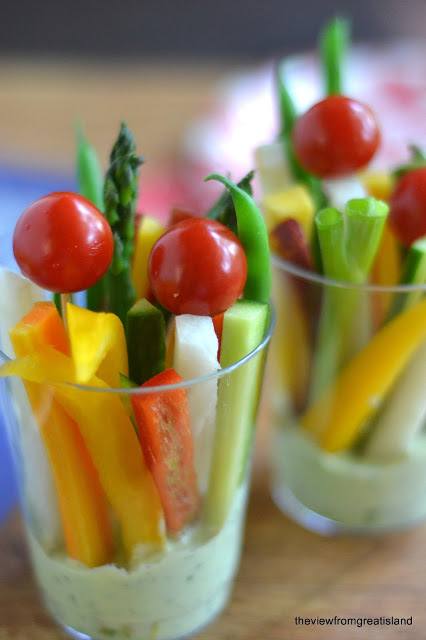 Veggie Dip Cups with Green Goddess Dip
Recipe by The View From the Great Island
Visit website
---
---
Green Goddess Veggie Dip Cups ~ healthy snacks to keep in the refrigerator, or super portable appetizers for your next party...and let's just say that the dreaded communal dip bowl is now a thing of the past.
---
---
Ingredients
Chive dip

⅓ cup parsley leaves

⅓ cup fresh dill fronds

⅓ cup tarragon leaves

⅓ cup chives

juice of lemon

1 clove garlic, smashed

2 tbsp mayonnaise

½ cup Greek yogurt

½ cup sour cream

⅓ cup soft goat cheese

1 tsp anchovy paste

(optional but I recommend it)

salt and fresh cracked black pepper

veggie cups

8 oz clear plastic party tumblers

(mine were about 3 1/2 inches high)

assorted colorful veggies:

asparagus

green beans

rainbow carrots

jicama

bell peppers

english (or Persian) cucumber

skinny green onions

sugar snap peas

cherry tomatoes to put on the end of long toothpicks

whatever else you like
---
---
Method
To make the dip --- rinse your herbs well and put them in the bowl of a small food processor. Run the machine until the herbs are finely mined, scraping down the sides as you go to get all the herbs completely processed. This is going to give your dip that lovely pale green color.
Add the lemon juice, garlic, and mayonnaise and continue processing until everything is blended well and there are no larger pieces of herbs left. You will still have to scrape down the sides.
Add the yogurt, sour cream, goat cheese and anchovy paste. Process until blended.
Taste the dip, and add the salt and pepper. Add extra lemon if needed.
To assemble the cups --- peel and slice the veggies into sticks. Cut them to a length where they will just peek out from the tops of your cups when stacked.
For tough vegetables like the beans and asparagus, plunge them in a pot of boiling salted water for about 30 seconds to a minute after it comes back to a boil. Then put them directly into a bath of ice water to stop the cooking and retain their bright color.
Layer a little dip on the bottom of each cup. Then arrange an grouping of vegetable sticks on top. Keep cold and covered with a damp paper towel until ready to serve.