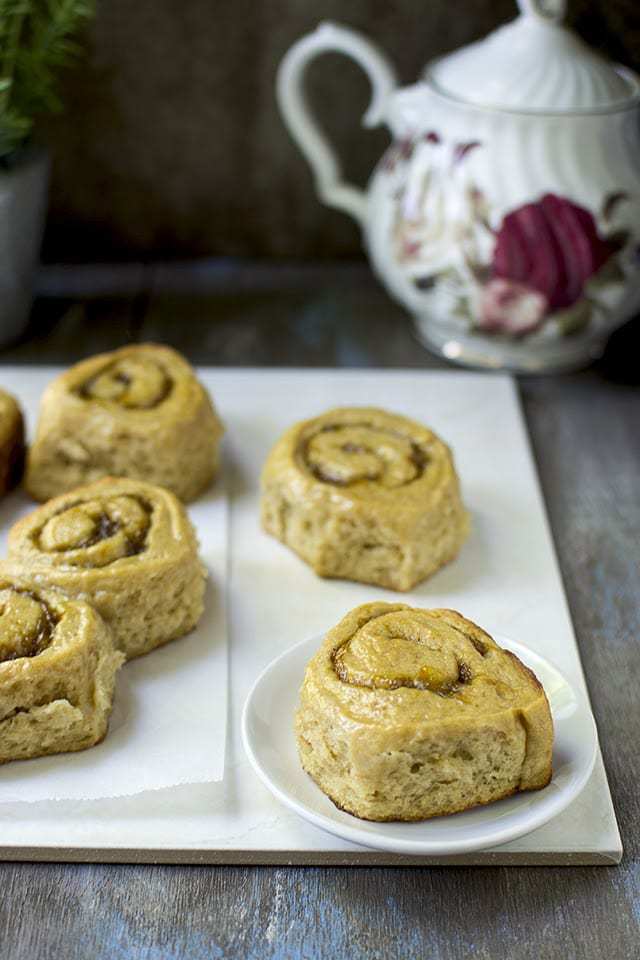 Wholewheat Sweet Rolls with Mango Filling
Recipe by Cook's Hideout
Visit website
---
---
---
---
Ingredients
3 cups Wholewheat Pastry Flour
2½ tsps yeast
3 tbsps sugar
1¼ tsps salt
6 tbsps unsalted butter
cup water
(15 oz. can, drained) black beans
(15 oz. can, drained) black beans
1 mango
3 ~ 4 tbsps dark brown sugar
(15 oz. can, drained) black beans
1 cup sugar
(15 oz. can, drained) black beans
3 ~ 4 tbsps heavy cream
---
Method
Make the Dough: Combine all the dough ingredients in a large bowl or the bowl of the stand mixer. Mix and knead to form a smooth pliable dough, about 7~8 minutes on the stand mixer and 10~11 minutes by hand.
Transfer the dough into a lightly greased bowl, cover and set aside to rise for 1~2 hours or until it's nearly doubled in bulk.
Make the Filling: While the dough is rising, make the mango filling. In a heavy bottom saucepan, combine chopped mango and sugar. Cook on medium flame, stirring occasionally, until the mixture thickens and comes together. You can mash the mango to make a smoother filling or leave it as is for a chunky filling.
Make the Roll: Lightly grease 2 9" or 8" round cake pans and keep ready.
After the first rise, gently deflate the dough and working on a lightly greased work surface, roll it out into a 16"x12" rectangle.
Spread the mango filling on the dough leaving a 1" border on all sides. Roll the dough into a log the long way; it will stretch to about 20" long as you roll.
Using a serrated knife, slice the log into 16 equal size slices. Wiping the knife clean with a clean kitchen towel or paper napkin between slices will help in cutting even slices.
Space the rolls in the prepared pans, flatten them gently. Cover and let rise for 1½~2 hours.They should puff up and start to crowd each other.
Preheat the oven to 375°F. Brush the rolls with some milk and bake for 18~20 minutes or until the rolls are brown around the edges and golden brown across the center.
Make the glaze: Combine confectioners sugar and cardamom in a small bowl. Add enough heavy cream (or milk) to make a soft spreadable icing.
Remove the rolls from the oven and loosen the edges with a knife. Turn them out of the pan onto a rack. Spread with icing and serve.
If you want to serve the rolls later, then do not ice them. Cool them completely, wrap in plastic wrap and store at room temperature for up to 3 days. Bake them in a preheated 350°F for 10~15 minutes until they are nicely warmed. Spread icing and enjoy!!