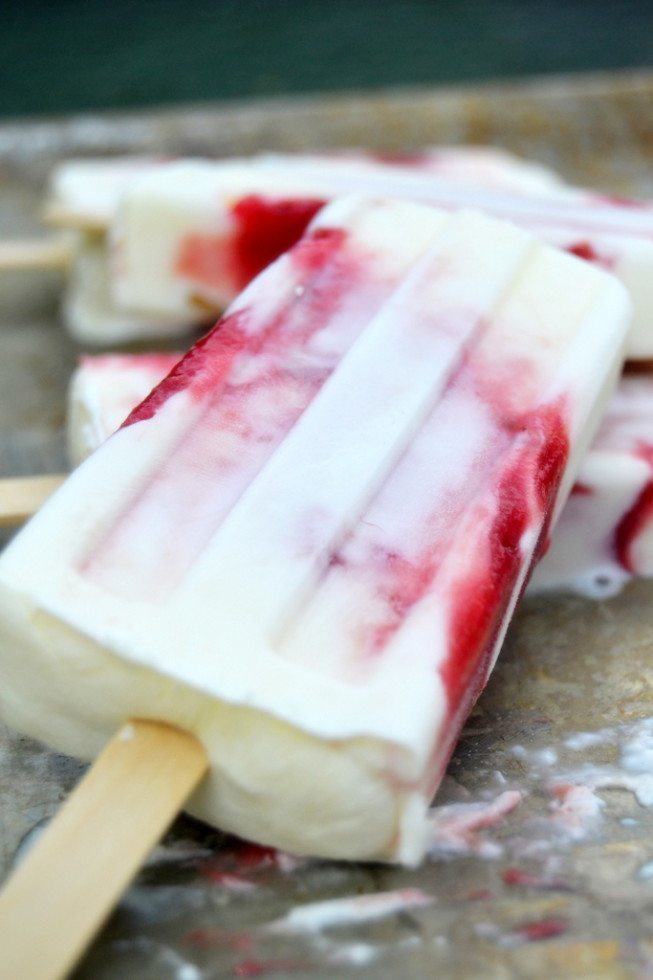 Rhubarb and Greek Yogurt Popsicles
Recipe by The View From the Great Island
Visit website
---
---
These rhubarb and Greek yogurt popsicles have tart rhubarb jam marbled through rich (full fat!) Greek yogurt--they taste like the most perfect bowl of fruit and yogurt you've ever eaten!
---
---
Ingredients
about 3 stalks of rhubarb

(about 10-12 oz)

½ cup sugar

1¼ cups Greek yogurt

(I used full fat)

milk or half and half or cream to thin the yogurt
---
---
Method
Rinse and trim the rhubarb, and then cut it into 1 inch pieces. Put the fruit and the sugar, along with 2 tablespoons of water, into a saucepan. Heat, stirring constantly, until the mixture comes to a boil. Turn down the heat and cook until the rhubarb is completely soft, about 20 minutes. Stir occasionally, and add a little more water if the jam is too thick or sticks to the pan.
Puree the rhubarb in a food processor until sooth. Refrigerate the puree until it is chilled. You should have at least 1 cup of puree.
Mix the yogurt with heavy cream, half and half, or milk to thin it. You want it to be thick but have a creamy consistency. There is no exact mount here, but since you are going to be spooning the yogurt into the molds, you want it a little looser.
When the rhubarb is cooled, it will be thickened as well. Add a little water if you want to loosen it.
Beginning with the yogurt, spoon alternate layers of yogurt and rhubarb into each mold until they are filled. Insert a skewer or chopstick down into each mold and stir just a bit to mix the layers and create a marbleized effect.
Insert popsicle sticks in each mold, the sticks will stand up by themselves, so no need for a top or foil covering.
Freeze until firm, about 4 - 5 hours or overnight.
To un-mold the pops, fill your sink with hot water. Immerse the mold up to but not over the top edge, and hold for about 15-20 seconds. If the pops don't slide out easily, immerse for a few seconds longer.
Eat right away or store in plastic baggies in the freezer.