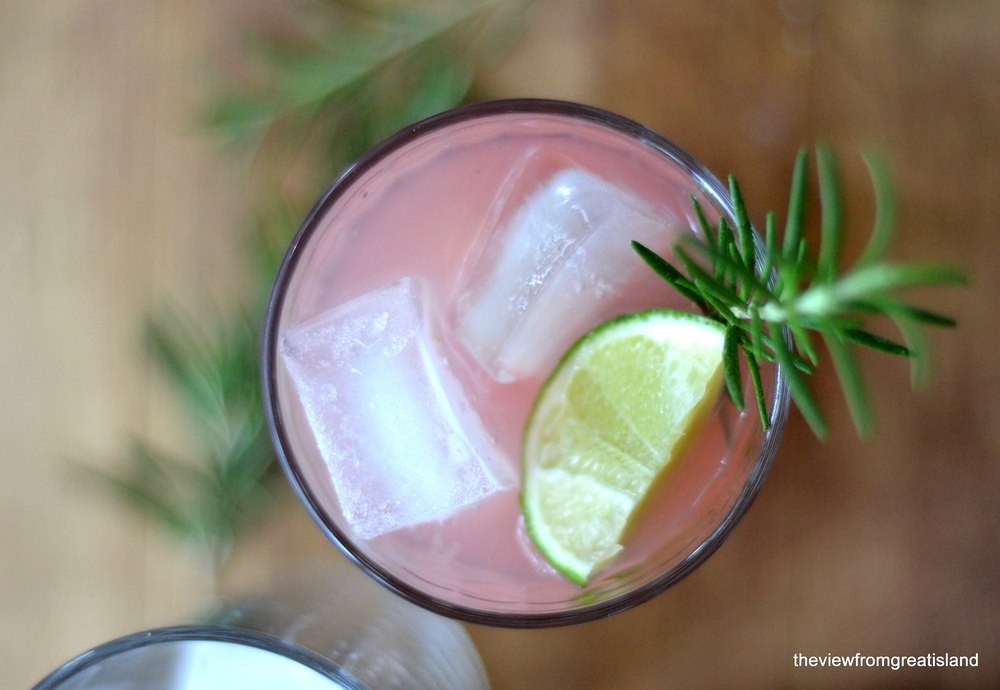 The Rhubarb Spring Fling
Recipe by The View From the Great Island
Visit website
---
---
The Rhubarb Spring Fling ~ a fruity cocktail that makes every day feel like the first day of Spring! The birds are chirping, the bees are buzzing, and it's 5 O'Clock Somewhere Friday—I'm in the mood for a Spring Fling. This  rum drink is made with fresh rhubarb simple syrup and a hint of rosemary.   I got inspired by a daiquiri recipe that appeared in Bon Appetit several years ago that paired the two.  The  earthy herb cuts the sweetness of the rhubarb and it is really unusual and delicious. Rhubarb simple syrup is a snap to make.  I chopped 2 stalks of rhubarb (about 2 cups) and added it to 1 1/2 cups water and 1 cup sugar in a sauce pan.  Bring to a boil and simmer for about 10 minutes.  Strain through a mesh strainer to remove all the rhubarb pulp, and return to the pan to reduce it a little further.  Boil gently for about 8 minutes, until the syrup has reduced and has thickened a bit.  I ended up with about 1 1/4 cups of syrup.  The color is beautiful. Let the syrup cool and then refrigerate until ready to use.  It will keep at …
---
Servings
syrup recipe makes about 1 1/4 cups
---
Ingredients
2 oz white rum

2 oz rhubarb simple syrup

2 oz fresh squeezed grapefruit juice

(pink or white)

1 small sprig rosemary, plus 1 for garnish

lime wedge for garnish

rhubarb simple syrup

2 stalks fresh rhubarb

(chopped)

1½ cups water

1 cup sugar
---
---
Method
Remove the leaves from a sprig of rosemary and muddle, or lightly crush them at the bottom of a cocktail shaker. Don't press too hard, rosemary is a very pungent herb, and you don't want it to overpower the drink. Add the rum, simple syrup and grapefruit juice. Add ice to fill the shaker and shake well, then strain over fresh ice in a tall glass. Garnish with a lime wedge and a fresh sprig of rosemary.
To make the simple syrup, put the rhubarb, water and sugar in a sauce pan. Bring to a boil, stirring to dissolve the sugar.
Boil gently for about 10 minutes.
Strain out the rhubarb, and put the syrup back on the stove to reduce a bit further. Boil gently for about 5 to 8 minutes, until the syrup is reduced to about 1 1/4 to 1 1/2 cups.
Let cool and then put in a container with a lid and refrigerate until ready to use.