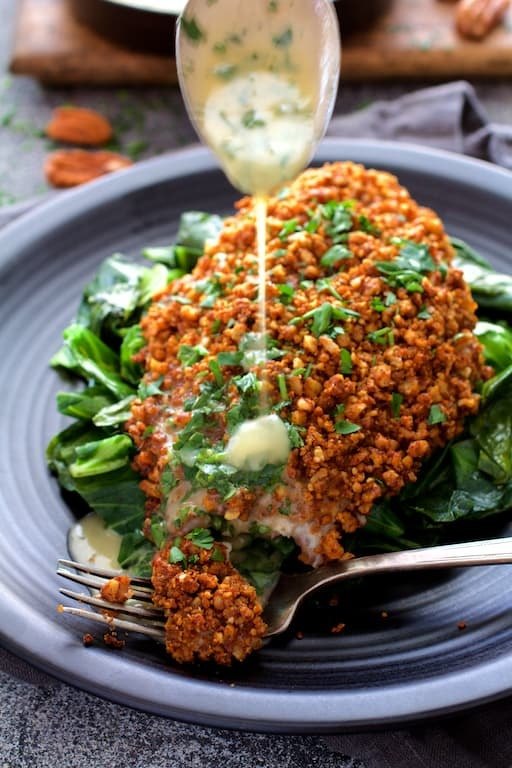 Baked Catfish Pecan Meuniere with Spicy Sauteed Greens
Recipe by From a Chef's Kitchen
Visit website
---
---
Servin' up N'Awlins style! Baked Catfish Pecan Meunière is a healthy interpretation of Palace Cafe's classic! Spicy Sauteed Greens make the perfect side dish!
---
---
Ingredients
catfish
non-stick cooking spray
1 cup Pecans
salt and freshly ground black pepper
2 teaspoons Cajun seasoning
0.5 teaspoon cayenne pepper
0.25 cup all-purpose flour
1 large egg
1 tablespoon milk
2 (6-8 ounce) catfish fillets
meuniere SAUCE
0.5 cup light butter
2 teaspoons lemon juice
1 teaspoon Worcestershire sauce
Hot sauce
2 tablespoons chopped parsley plus more for garnish
greens
2 tablespoons olive or vegetable oil
1-2 bunches greens such as Swiss chard, kale, turnip, collard greens or spinach
3 cloves garlic
0.5 teaspoon crushed red pepper flakes
1 tablespoon red wine vinegar
salt and freshly ground black pepper
---
Method
CATFISH
Preheat oven to 375 degrees. Spray a baking sheet with cooking spray.
Combine pecans, salt, pepper, Cajun seasoning and cayenne in a mini food processor. Process until finely chopped. Transfer to a plate.
Place flour on another plate. Season with salt and black pepper. Whisk egg and milk together in a bowl.
Dredge catfish in flour mixture, shaking off excess. Dip in egg mixture, then into pecan - spice mixture. Place on the prepared baking dish and spray with cooking spray.
Bake for 18 to 20 minutes or until fish easily flakes with a fork.
SAUCE
Combine light butter, lemon juice, Worcestershire and hot sauce in a small saucepan. Heat over low heat until butter is melted. Stir in parsley.
GREENS
Heat oil in a skillet or saute pan over medium-high heat. Add the greens in large handfuls. Use tongs to toss the greens around, adding more fresh green ones as the ones in the pan wilt.
Add the garlic, cook briefly until fragrant (15 seconds), then add crushed red pepper flakes, vinegar and salt and black pepper to taste.
Serve fish over greens. Drizzle with butter sauce.