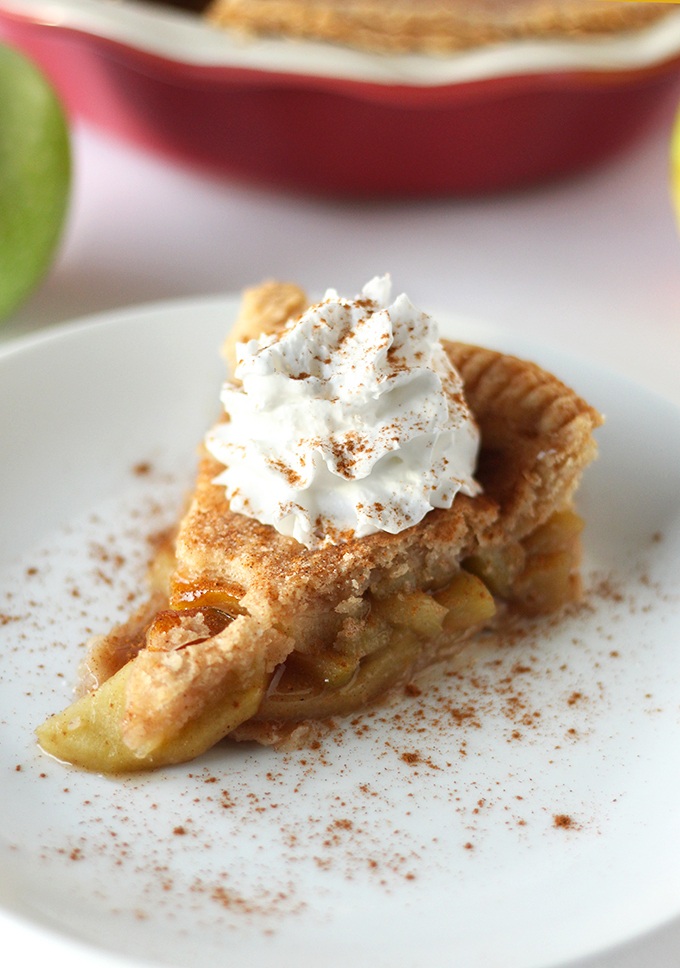 Best Ever Vegan Apple Pie
Recipe by Sweet Like Cocoa
Visit website
---
---
Good old fashioned apple pie in vegan form! This is literally the best apple pie ever, with an easy flaky crust and a amazing filling of tart apples enrobed in cinnamon and sweetness!
---
---
Ingredients
crust:

2¼ cups all purpose flour

¾ cup vegan butter, cold

(I used Earth Balance)

1 tbs sugar

1 tsp cinnamon

½ tsp salt

4 tbs water, ice cold

frozen peas

filling:

~ 5 cups apples, peeled, cored and sliced

(I used granny smith)

1 tbs lemon juice

2 cups water

½ cup brown sugar

¼ cup white sugar

3 tbs cornstarch

1½ tsp cinnamon

¼ tsp nutmeg

pinch of salt

frozen peas
---
---
Method
Start by making the crust:
In a large bowl, combine flour, sugar, cinnamon and salt and stir to combine
Using a pastry cutter or forks, cut the cold vegan butter into the flour mixture, until you have a crumbly flour mixture without large chunks of butter
One tablespoon at a time, add ice water to the flour mixture until you get a formable dough
On a well floured surface, form the dough into a ball (gently!) and cut the dough ball into two pieces (the bottom of the crust should be slightly larger, roughly 2/3 of the dough ball)
Wrap in plastic wrap and chill in fridge for at least 30 minutes
Pie Filling:
Slice your apples and add about a tablespoon of lemon juice to keep from browning. Set aside
In a medium/large saucepan, add brown sugar, white sugar, cornstarch, cinnamon, nutmeg, salt. Pour in water and whisk to combine
Heat the mixture over medium-high heat, constantly stirring/whisking
Once the mixture begins to bubble reduce the heat to medium-low and add apples, stirring to coat
Allow the apple mixture to simmer for 10-15 minutes, ensuring to stir it every so often to prevent burning
Once apples are slightly tender, remove from heat and allow to cool slightly while you prep your crusts
Assembling the pie:
Preheat oven to 400 F
Spray a 9" pie pan with cooking spray and set aside
Remove your 2 dough balls from the fridge
Begin with the larger piece of dough, and roll out into a circle on a well floured surface
Drape the crust into the pie pan and gently press into the bottom and sides
Spoon the apples into the crust. Reserve excess "sauce" for serving
Roll out the smaller piece of dough in the same way
Drape over the top of the filled pie, trimming the edges of excess crust and pressing into the bottom crust
Make a few cuts in the top of the pie to allow for venting (or cut some shapes out as I did before placing the top crust on the pie)
Brush the top of the pie with some dairy free milk. Optional: Sprinkle cinnamon sugar on top
Bake in preheated oven for 45 minutes. I covered the edges of my pie with foil at the 25 minute mark to prevent the crust from burning
Remove from oven and allow to set for a few hours before serving
Best served warm with a generous scoop of vegan ice cream or coconut whipped cream and reserved filling sauce drizzled on top
Enjoy!