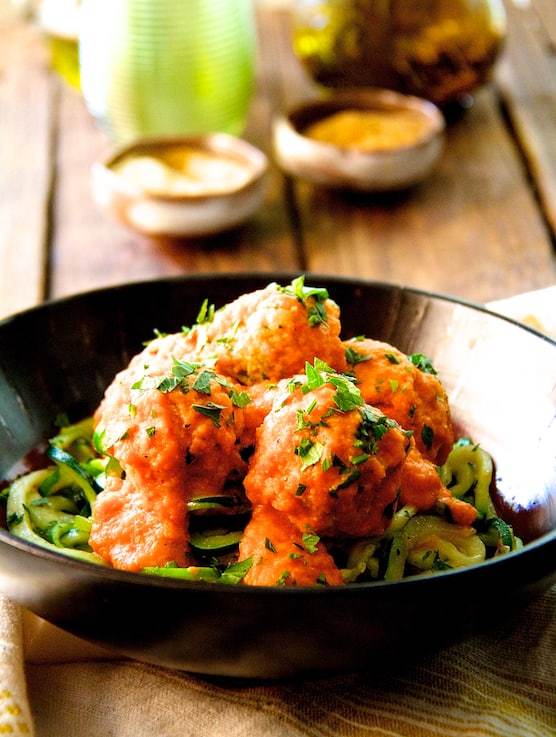 Chicken Meatballs with Roasted Red Pepper - Chickpea Sauce and Zucchini "Noodles"
Recipe by From a Chef's Kitchen
Visit website
---
---
Chicken Meatballs with Roasted Red Pepper Chickpea Sauce and Zucchini Noodles are a delicious and healthful way to spice up your spaghetti and meatballs routine!
---
Servings
Cuisines
Courses
---
Ingredients
meatballs
non-stick cooking spray
0.5 cup chicken broth
1 large egg
0.5 cup panko
3 cloves garlic
2 tablespoons fresh parsley
1 tablespoon ground cumin
2 teaspoons ground coriander
1 teaspoon salt
2 teaspoons Hungarian paprika
1 teaspoon freshly ground black pepper
0.5 teaspoon cayenne pepper, or to taste
1 pound ground chicken
sauce
2 tablespoons olive oil
1 medium onion
3 cloves garlic
1 teaspoon ground cumin
1 teaspoon ground coriander
0.25 teaspoon cayenne pepper
1.25 cups chicken broth
3 large red bell peppers, roasted and skins removed or 1 jar (12-ounce) drained
2 cans (15-ounce) chickpeas
salt and freshly ground black pepper
2 tablespoons fresh parsley
zucchini "NOODLES"
2 tablespoons olive oil
2 large zucchini, spiral sliced or cut into thin strips
2 cloves garlic
salt and freshly ground black pepper
---
Method
MEATBALLS
Preheat oven to 375 degrees. Line a baking sheet with aluminum foil and spray with cooking spray. Alternately, use non-stick aluminum foil or parchment paper.
Combine next 11 ingredients in a bowl (using 1/4 cup chicken broth). Add ground chicken and mix well. Form into 1-inch meatballs and place on baking sheet. Drizzle with remaining chicken broth. Bake for 15-20 minutes or until cooked through to an internal temperature of 165 degrees. Makes 25 1-inch meatballs.
SAUCE
While the meatballs are baking, prepare sauce. Heat olive oil over medium-high heat in a large saucepan. Add the onion, reduce heat to medium-low and cook 8-10 minutes or until the onion is soft. Add the garlic, cumin, coriander and cayenne and cook 30 seconds.
Add the chicken broth, red bell peppers and chickpeas. Bring to a boil, reduce heat to medium-low and simmer 5 minutes. Puree with an immersion blender until smooth or transfer to a food processor or blender and puree until smooth. (Be careful with hot liquids!) Season to taste with salt and black pepper. Stir in parsley.
ZUCCHINI NOODLES
Heat olive oil in a large sauté pan over medium-high heat. Add the zucchini and cook 4-5 minutes, stirring often or until the zucchini softens to desired doneness. Season with salt and black pepper to taste.