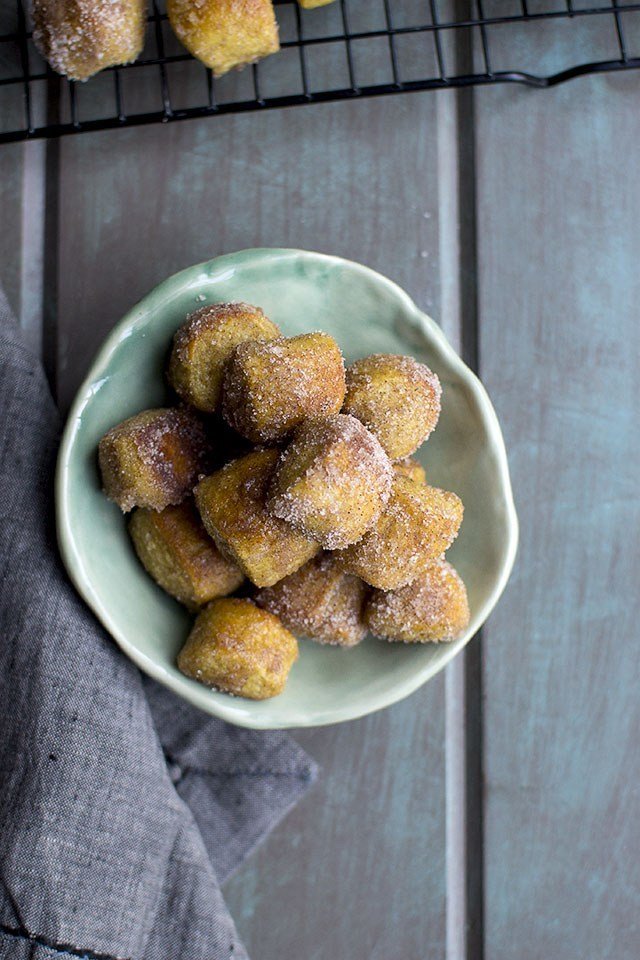 Cinnamon Sugar Pretzel Bites
Recipe by Cook's Hideout
Visit website
---
---
---
---
Ingredients
1½ cups all purpose flour
1 cup White Wholewheat flour
2¼ tsp instant yeast
1 tsp sugar
1 tsp salt
1 cup Lukewarm Water
1 cup water
2 tbsp baking soda
as needed Sparkling Sugar
6 tbsp UnsaltedButter
ricotta
1 tsp ground cinnamon
---
Method
Combine all the dry ingredients for the dough in a mixing bowl. Add 7/8 cup of lukewarm water and mix. Knead until a smooth, pliable dough forms. Add more water if needed. Cover and set aside to rise for 30 minutes.
In the mean time, make the baking soda bath. Bring water to a boil and add the baking soda. Mix well and turn off the heat. Let the mixture cool to lukewarm or cooler.
Combine cinnamon and sugar in a small bowl and keep ready.
Preheat the oven to 400°F. Line a baking sheet with parchment paper and lightly grease the paper.
Divide the dough into 6 equal pieces. Roll each piece into 12"~15" long log. Cut the log into 12 equal size pieces.
Pour the baking soda mixture into a large bowl and add all the dough balls. Swish them around for 2 minutes. Remove with a slotted spoon onto the prepared baking sheet.
Sprinkle the bites with the sparkling sugar and bake for 12~15 minutes or until the pretzel bites are golden brown.
Remove from the oven and roll them in melted butter. Immediately take them out and roll them in cinnamon sugar. Place them on cooling rack. Enjoy them warm or store them in an airtight container for up to 2 days.