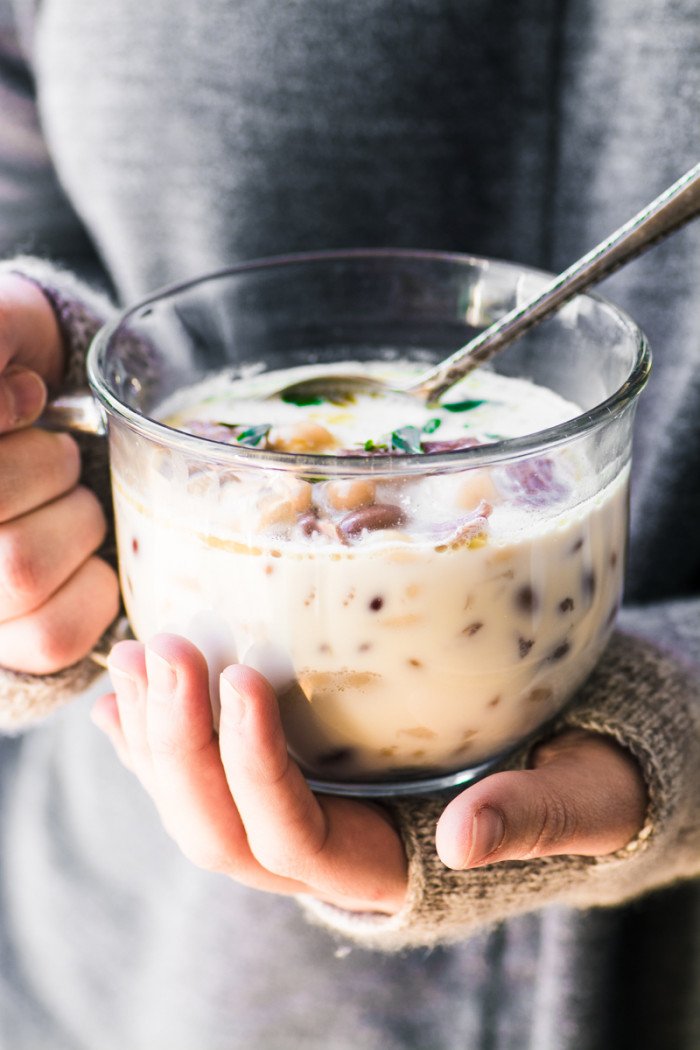 Creamy Ham and Bean Soup
Recipe by The View From the Great Island
Visit website
---
---
Creamy Ham and Bean Soup is a luxe way to use up a leftover holiday ham ~ make a big pot of this wonderful chowder, it only gets better as it sits.
---
---
Ingredients
beans

2 cups mixed dried beans (I used a mix of red, pink, white, lima, black, chick pea, black eyed pea, and hei

1 tsp salt

2 bay leaves

ham broth

leftover hambone, with most of the meat removed, shredded or chopped, and set aside

2 bay leaves

10 whole peppercorns

soup

1 cup heavy cream

2 cups cooked ham, shredded or chopped

fresh thyme leaves

salt and fresh cracked pepper to taste
---
---
Method
Rinse the beans and put them in a large pot. Cover with several inches of cold water, add the salt and bay leaves, and bring to a boil. Boil for 2 minutes, then turn off the heat, cover, and let sit for an hour.
Drain the beans, put back in the pot, (along with the bay leaves) and cover with several inches of cold water. Bring the beans to a boil and cook gently until they are just tender. This can take anywhere from 1 to 2+ hours, depending on your beans. Add more water as necessary. Try to retain some texture in the beans, don't let them get mushy. Drain.
Meanwhile, put the ham in a large stock pot and add 10 cups of cold water. Throw in the bay leaves and peppercorns, and bring to a boil. Turn the heat down, cover, and cook for 90 minutes. Check to see that the broth is simmering, not boiling furiously.
Strain the broth and discard the solids. Return the broth to a clean pot.
Add the cooked and drained beans to the ham broth, along with the cream, the reserved ham, and 3 tablespoons of fresh thyme leaves. Bring up to a simmer, and season with salt and fresh cracked black pepper to taste.
Serve hot with extra thyme leaves.