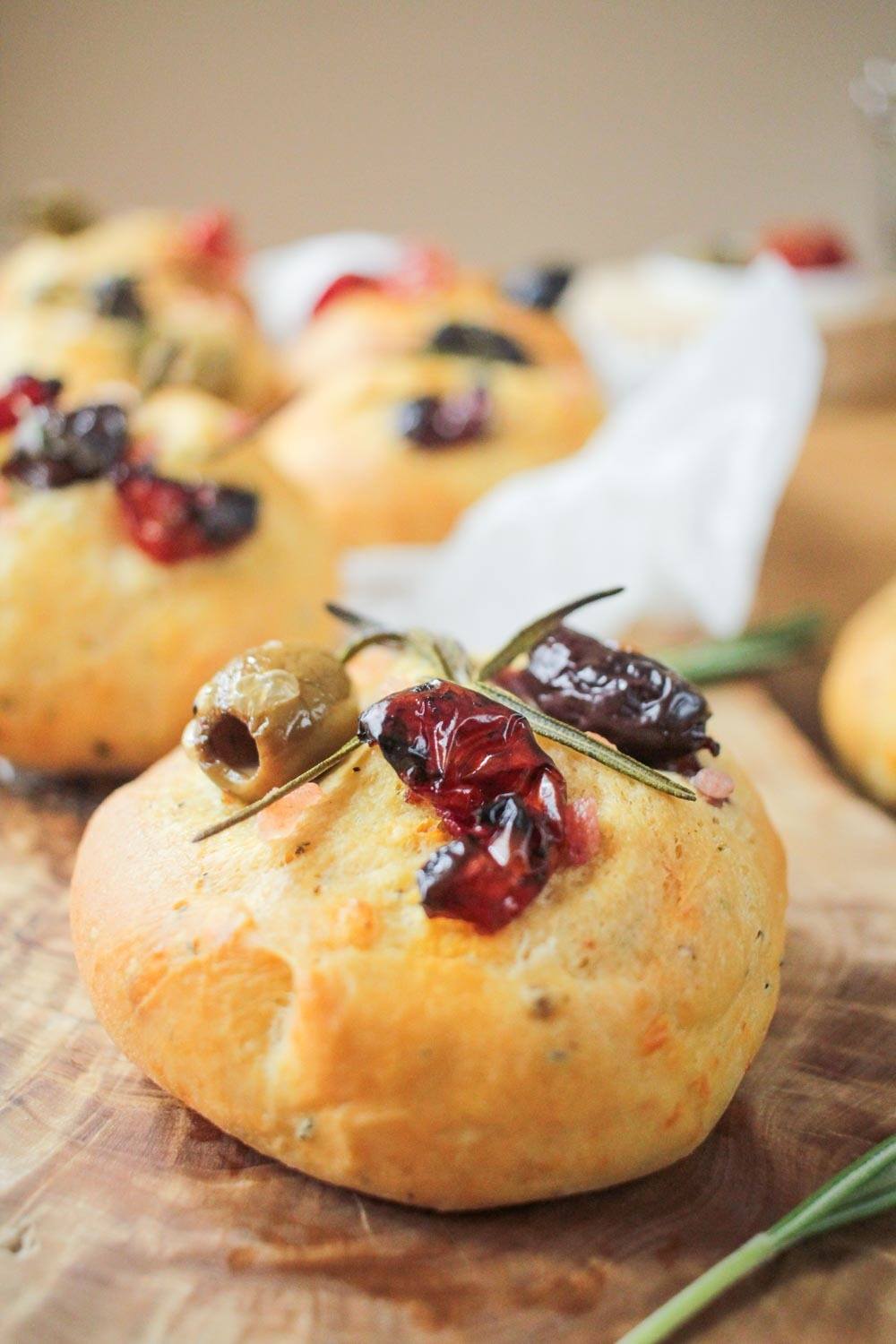 Focaccia Rolls
Recipe by Globe Scoffers
Visit website
---
---
---
---
Ingredients
500 g strong white bread flour
7 g yeast
1.5 tsp salt
20 g fresh rosemary
35 g sun dried tomato
6 tbsp extra virgin olive oil
250 ml hand- hot tap water
20 mixed olives
1 tbsp pink Himalayan crystal salt
---
Method
Put the flour in to a large bowl with the yeast one side and the salt the other side and mix together.
Take the leaves off half of the fresh rosemary and finely chop them up. Add the chopped sun dried tomatoes and rosemary to the flour along with 4 tbsp of oil. I used the oil out of my sun dried tomatoes as this gives it extra flavour, but normal oil is also fine.
Add 250ml of hand hot water out of the tap and mix it all up with a wooden spoon or your hands. Your mixture should start to combine now, add more water if needed to form a soft but not too sticky dough.
Make sure your work surface is floured and knead the dough for 10 minutes, until your dough is smooth and springs back when gently pressed.
Put your dough back into the bowl and cover with clingfilm then leave to rise for 45 minutes. Your dough should double in size.
Take your dough out and place on a floured surface then knead again for another 2 minutes.
Divide your dough up by cutting into 8 equal pieces. Mould your dough into a ball shape, tucking the crease in at the bottom and flatten the top, repeat 8 times.
Prepare 2 baking trays oiled and with baking paper. Put your rolls onto the trays and cover them with oiled clingfilm. Leave them in a warm place for 30 minutes, they should double in size.
Meanwhile, preheat the oven to gas mark 6, 200C, fan 180C.
Once the 30 minutes are up take off the clingfilm and decorate your rolls with olives, sun dried tomatoes, rosemary and rock salt. Don't be shy - push the olives in. Try to keep them more in the centre of the roll this will prevent them from falling off when cooked.
Drizzle with more oil (I used the oil from my sun dried tomato jar) place in the oven for 20 minutes.
Once cooked take the bread rolls out, drizzle with more oil if desired and let cool. Serve with a bowl of fresh pasta or olives and cheese. Enjoy! Store in a air tight container for freshness.