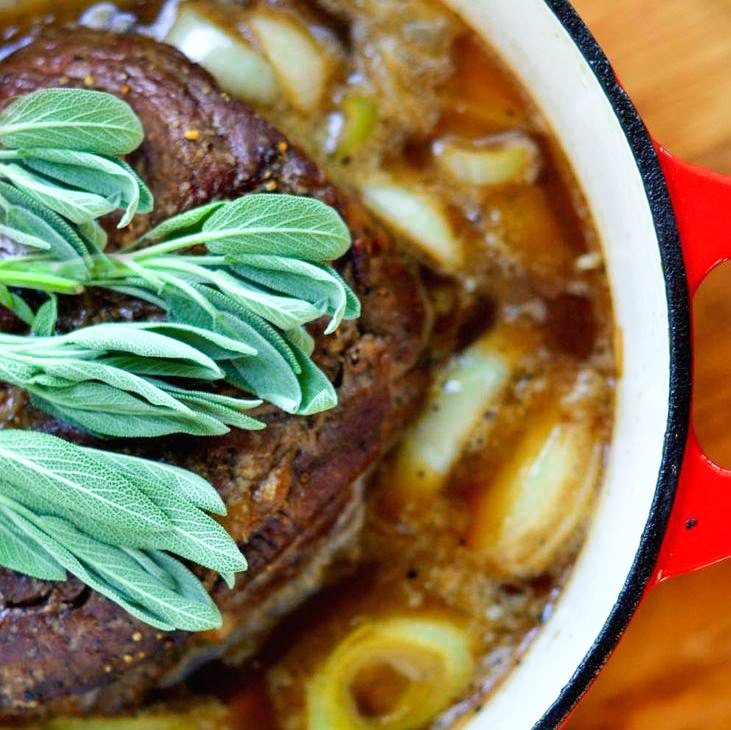 Hard Cider Braised Pot Roast
Recipe by The View From the Great Island
Visit website
---
---
Hard Cider Braised Pot Roast with Fresh Sage is full of classic fall flavors ~ it's a fix it and forget it meal that everyone loves!
---
---
Ingredients
3-4 lb boneless chuck roast
salt and black pepper
2 tbsp shortening or vegetable oil
2 medium white onions, peeled and thickly sliced
2-4 large shallots, peeled and cut in wedges
4 large cloves garlic, peeled and smashed
2 cups beef stock
1 12oz bottle of hard cider
3 sprigs of fresh sage
1 tbsp apple cider vinegar
wondra flour for optional thickening
---
Method
Set oven to 325F
Rub your roast with salt and fresh cracked black pepper, making sure it adheres to the meat.
Heat the shortening or vegetable oil in a large heavy pot until it is smoking hot. Brown the meat on ALL sides. You should hear a great sizzle when the meat hits the pan. Let each surface get nice and brown without disturbing it before you move on to the next section. Don't forget the top and bottom!
Remove the roast from the pan and set aside on a plate. Add the onions, shallots, and garlic to the pan and saute, stirring almost constantly, for 3 to 5 minutes, just until the onions start to soften and you have scraped up all the good brown bits from the bottom of the pan.
Put the meat back into the pan, nestling it among the onions.
Add the stock and cider, along with 2 bunches of fresh sage. (Reserve the third bunch for later) The liquid should almost come up to the top of the meat, but not quite. Add more stock or a little water if necessary.
Bring to a simmer, then cover and set the pot in the oven. Cook for 4 - 4 1/2 hours, turning the meat over halfway through the time.
Remove the meat to a platter and put the pot back on the stove. Pick out the sage stems and discard. Chop the final bunch of sage and add it to the sauce now. Add the cider vinegar, and bring it back up to a simmer. If you like your gravy on the thick side, sprinkle on a little Wondra flour until you get the consistency you like, If you don't use the flour, boil the sauce for about 15 minutes to reduce it a bit. Either way, taste it to adjust the seasonings.
Slice the pot roast and, using a slotted spoon, spoon the onions over the top, followed by someof the gravy. Serve with extra gravy on the side.