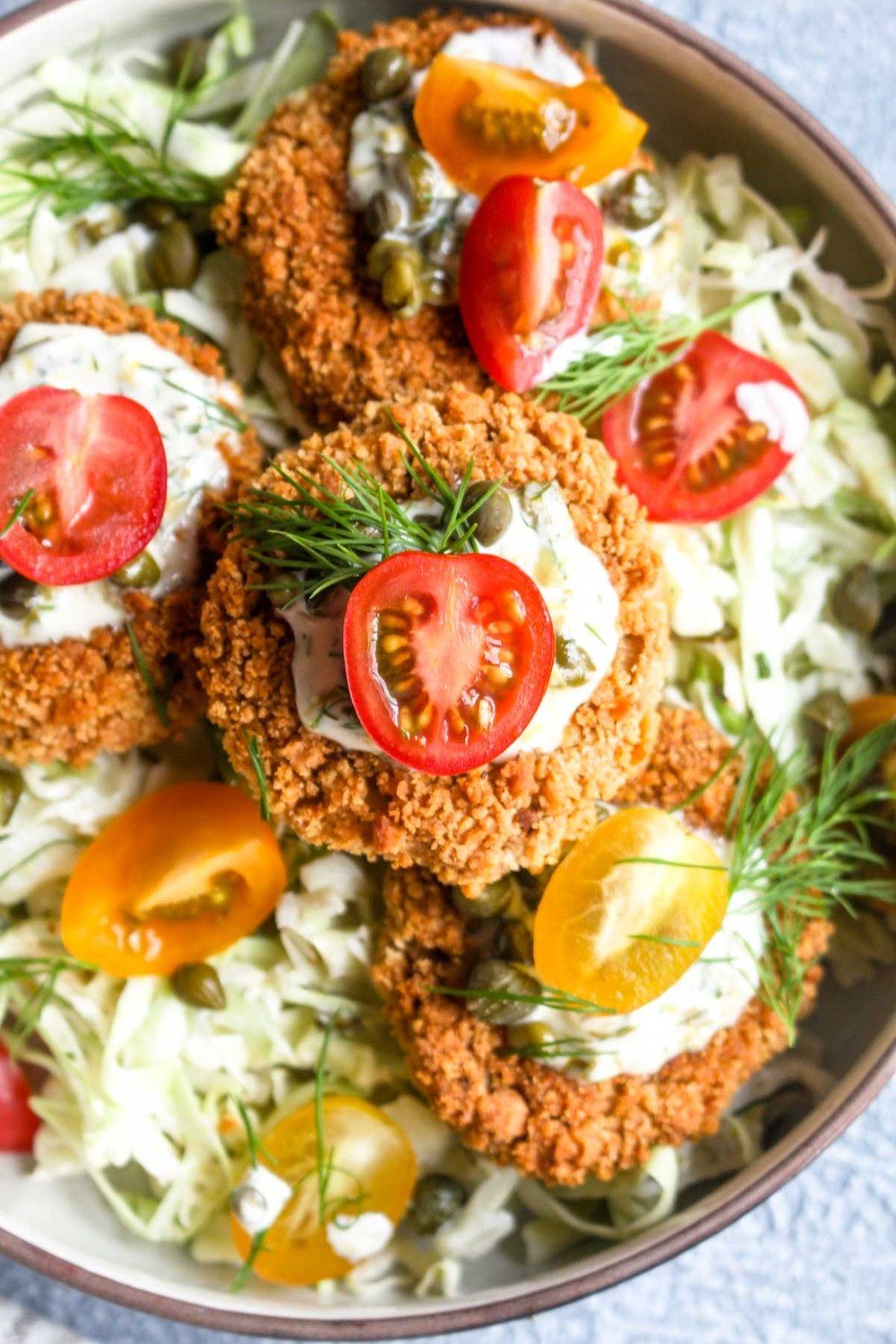 Hearts of Palm Cakes with Caper Aioli
Recipe by Catching Seeds
Visit website
---
---
---
---
Ingredients
10  oz  vegan mayonnaise
1  lemon zested and 1/2 juiced
2  tablespoons  Reese Capers,
1  tablespoon  minced dill
1  clove  garlic,
16  oz  Reese Hearts of Palm,
0.25 cup  minced shallots
0.25 cup  minced celery
2  teaspoons  agave
0.75 cup  oat flour
1.5 teaspoons  Old Bay seasoning
pinch salt
0.75 cup  oat flour
1  teaspoon  Old Bay seasoning
0.75 cup  unsweetened almond milk 
2  teaspoons  Dijon mustard
a few dashes of hot sauce
1.5 cups  gluten-free bread crumbs
salt
pepper
extra herbs
halved grape tomatoes
---
Method
In a small bowl, whisk together all of the aioli ingredients. Set aside.
Preheat the oven to 425 degrees. Coat a baking sheet with coconut oil spray.
In a bowl, stir together the hearts of palm, artichokes, shallots, celery, and agave. In another bowl, whisk together the oat flour, Old Bay and salt. Add the flour mixture into the hearts of palm and stir well to combine. Place in the fridge for 1 hour to firm up.
For the breading station, whisk together the oat flour, Old Bay, and a pinch of salt and pepper into one bowl. In another bowl, whisk the almond milk, Dijon mustard, a few dashes of hot sauce and a pinch of salt and pepper together. In a third bowl, add the breadcrumbs.
Take 2 tablespoons of the crab cake mixture and form it into a patty. Place it into the oat flour and coat all sides evenly. Submerge it into the almond milk and immediately remove it. Let any excess liquid drip off and then add it to the breadcrumb bowl. Coat with the breadcrumbs, using your hands to cover all sides evenly. Place on the baking tray and repeat with the remaining batter.
Bake the crab cakes for 25 minutes, flip them over and bake for another 25 minutes. Remove from the oven and let them cool for 10 minutes to fully set up. Serve with aioli and toppings, if desired.