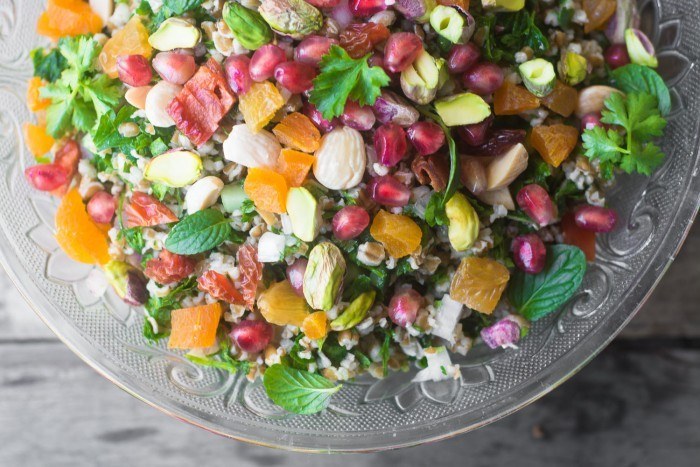 Jeweled Tabbouleh
Recipe by The View From the Great Island
Visit website
---
---
My Jeweled Tabbouleh Salad is a healthy Mediterranean cracked wheat recipe studded with colorful, gem-like dried fruits and nuts. This festive no mayo whole grain salad is perfect for both holiday tables and working lunches alike.
---
---
Ingredients
2 cups soaked cracked wheat
2 cups cooked wheat berries
0.25 cup extra virgin olive oil
0.25 cup fresh squeezed lemon juice
salt and freshly cracked black pepper
2 large bunches WELL WASHED fresh parsley, stems removed, finely minced (I pulsed it in a food process
1 small bunch of fresh mint leaves
0.5 english cucumber
0.5 medium red onion
'jewels'
0.5 cup raw pistachios
0.5 cup dried Apricots
0.25 cup blanched almonds
0.25 cup golden raisins
0.5 cup pomegranate seeds
---
Method
You will need 2 cups soaked cracked wheat and 2 cups cooked wheat berries. Follow the directions on the packages. Once soaked and cooked, measure out 2 cups each and put in a large bowl.
Mix the dressing by whisking the olive oil and lemon juice together. Pour it over the wheat and toss to combine well. Season with 1/2 tsp salt and lots of fresh cracked black pepper. Toss again.
Add the minced parsley, mint, cucumber, and red onion, toss well. Cover and refrigerate for at least an hour.
Toss the salad again, and taste to adjust any of the seasonings. When you are ready to serve, top with the 'jewels'. Garnish with a few mint or parsley leaves.