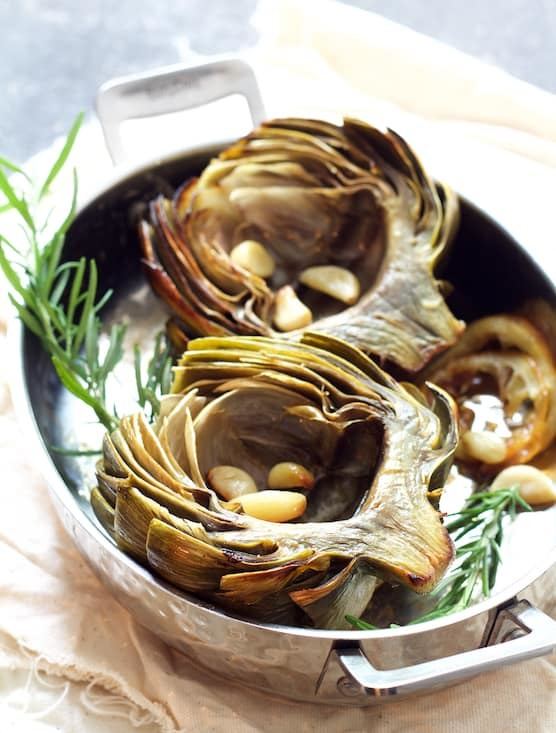 Oven Roasted Artichokes with Roasted Garlic Butter
Recipe by From a Chef's Kitchen
Visit website
---
---
Don't boil or steam the delicate flavor of artichokes away! Oven Roasted Artichokes with Roasted Garlic Butter is an easy way to cook artichokes to preserve their wonderful flavor.
---
---
Ingredients
2 large globe artichokes

3 large lemons

( 2 juiced, 1 sliced to yield 4 slices)

extra-virgin olive oil

salt and freshly ground black pepper

12 whole cloves garlic

4 sprigs fresh thyme

4 sprigs fresh rosemary

1 stick salted butter, very soft
---
---
Method
Preheat oven to 400 degrees. Fill a bowl large enough to accommodate the artichokes when halved with water (about 2 quarts). Add the lemon juice. (I also toss in the lemon pieces.)
As you complete each of the following steps, immediately immerse the artichoke in the lemon (acidulated) water.
--Trim any dry stem end from the bottom of the artichoke.
--Remove tough outer leaves from the bottom of the artichoke.
--Trim approximately 1 inch from the top of each artichoke.
--Trim the tips of each leaf. (Be careful! They can have sharp barbs.)
--Cut the artichoke in half from top to bottom.
--Scoop the fuzzy choke from the center of each artichoke.
Drizzle a large baking dish or roasting pan with olive oil. Season artichokes with salt and black pepper. Place 3 cloves of garlic in each artichoke, top each with a sprig of thyme and rosemary, then place a lemon slice on each. Carefully flip the artichoke half over so that the cut side is facing down. (Make sure the garlic is securely inside so that it doesn't burn.) Drizzle with olive oil.
Cover with foil. Roast for 45 to 50 minutes or until tender. (Test doneness by gently pulling on one of the leaves or test with a small, sharp knife.)
Place the softened butter in a small saucepan. Remove the garlic cloves from the pan and add to the butter. Mash it into the butter, then gently melt the butter.
Serve the artichokes with the butter.