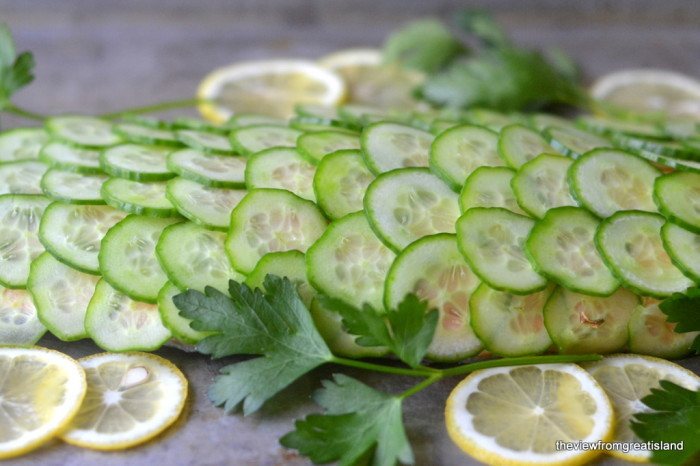 Poached Salmon with Cucumber Scales
Recipe by The View From the Great Island
Visit website
---
---
Poached Salmon with Cucumber 'Scales' ~ this healthy poached salmon makes a stunning presentation for any special occasion ~ and it's easy to do!
---
---
Ingredients
1 - 1 1/2 pound salmon fillet

2 lemons

(thinly sliced)

several small pickling cucumbers or 1 seedless cucumber

fresh parsley or dill sprigs
---
---
Method
Set the oven to 400F
Rinse the salmon and lay out in a baking pan long enough to accommodate it. Add cold water to the pan, to almost but not quite cover the fish. Add one sliced lemon to the water, and cover the pan with foil. Cook for 30 minutes, or until the fish is just cooked through.
Drain the fish and chill.
After the fish has chilled, slice the cucumbers into paper thin slices. The slices have to be thin enough to be flexible, so they will conform to the shape of the fish. Use the thinnest setting on the mandolin. I recommend slicing just a few pieces to start with, and check to see if you've got the right thickness. No need to peel the cucumbers.
To layer the 'scales', begin at the tail end and working upwards. Lay them in an alternating, overlapping pattern, just like fish scales!
Serve the fish cold, with wedges of lemon.