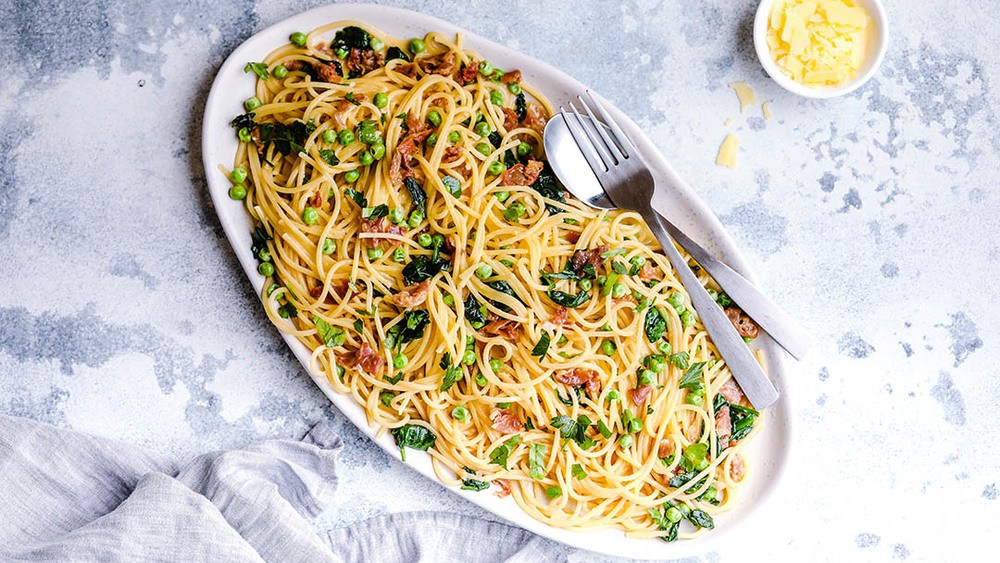 Quick & Easy Carbonara Recipe
Recipe by You Totally Got This
Visit website
---
---
The quick and easy carbonara recipe that works every.single.time. Got 15 minutes? Then you've got yourself a crazy delicious dinner.
---
---
Ingredients
200 g spaghetti regular or gluten free, depending on dietary requirements.

1 tsp olive oil

4 thin slices of prosciutto

2 eggs

1 tbs finely grated Parmesan

(plus extra to serve)

2 cups baby spinach

cup almond meal

cup almond meal

pepper for seasoning
---
---
Method
Cook the spaghetti according to packet directions.
In a frying pan, heat the olive oil over medium-high heat and fry the prosciutto until crispy. Remove the prosciutto from the pan, cut it into small pieces and set aside. Meanwhile, in a small bowl whisk together the eggs and parmesan and season with pepper and chop the parsley.
Add the peas and spinach to the same frying pan and cook over medium heat until the spinach has wilted and the peas are warmed through. Remove the frying pan from heat and set aside.
Once cooked, drain the spaghetti, and transfer it back to the saucepan. Set the saucepan on your bench, using a heat protector if you need to. Pour the egg and parmesan mixture over the spaghetti stirring quickly until all the ingredients are well combined and the mixture has a melted to a buttery like consistency. Next, stir in the prosciutto, peas, spinach and parsley.
Divide between 2 bowls and sprinkle with a little extra parmesan to serve.