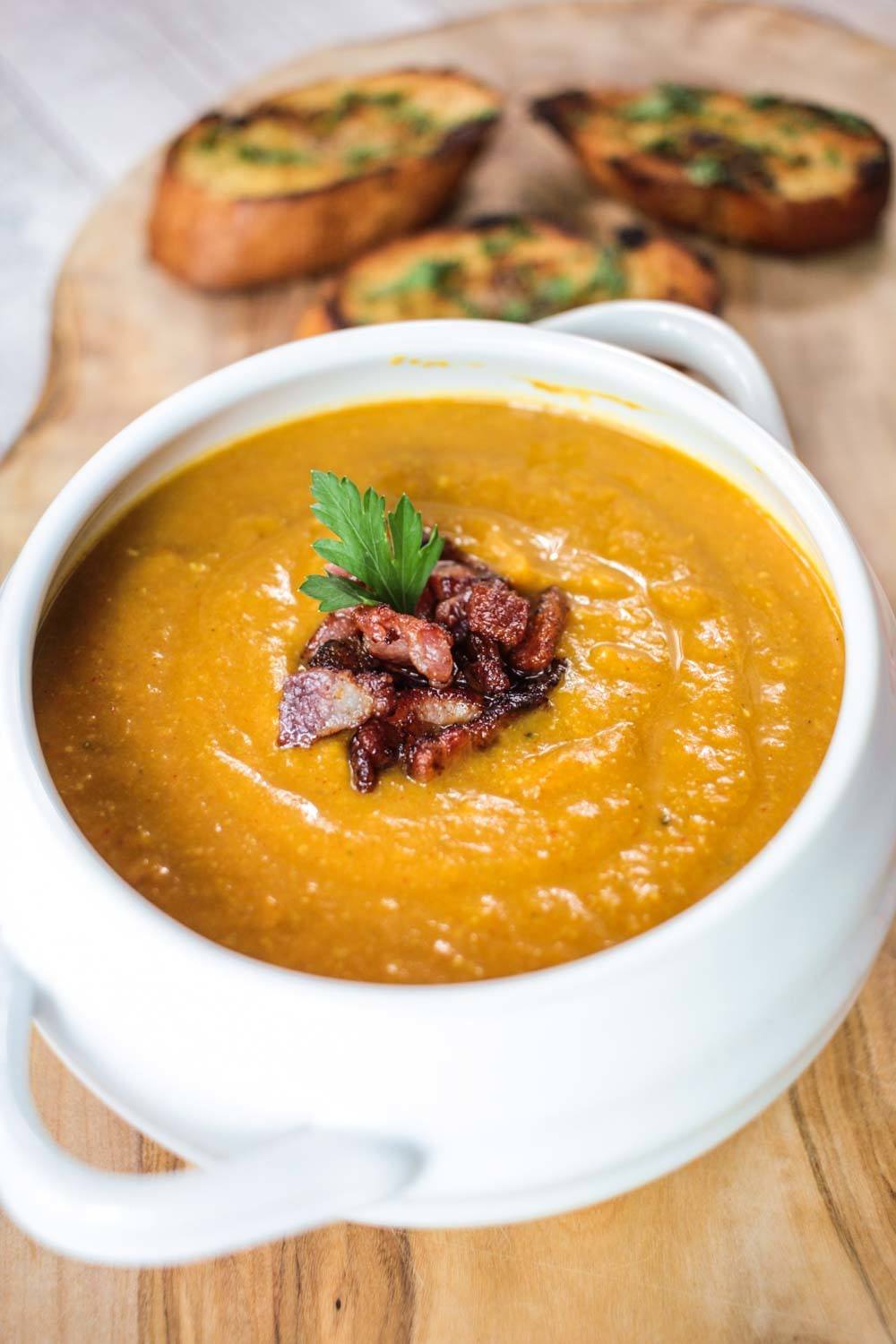 Spiced Red Lentil and Bacon Soup
Recipe by Globe Scoffers
Visit website
---
---
---
---
Ingredients
1 tbsp rapeseed oil
1 medium onion
1 celery stick
1 large carrot
1 fresh red chilli
320 g smoked bacon lardons
1 tsp garlic paste
1 tsp tomato puree
0.25 tsp celery salt
0.5 tsp ground turmeric
1 tsp cumin
1 tsp smoked paprika
0.25 tsp chilli powder
1 lt chicken stock
140 g red lentils
black pepper
2 tsp butter
3 slices of french baguette
2 tsp garlic paste
1 tsp fresh parsley
---
Method
Add the oil to a frying pan and fry the onions, carrot and celery on a medium heat until the onion starts to go soft. Add the garlic paste and cook for another 2 minutes.
Add the chopped chilli and stir in. Cook for another 2 minutes then add three quarters of the bacon lardons, cooking until they have a little bit of colour. Now add the tomato purée.
Add a splash of water to your pan to loosen stop it catching. Then add all the all the spices and celery salt. Stir in to your mixture, adding a little more water if needed.
Place all of the ingredients into a large saucepan and add the stock, then bring to the boil. Now add your lentils, making sure you have rinsed them in cold water beforehand if need be. Boil them for 10 minutes and then simmer for 15 minutes.
Using a soup stick blender whizz your soup up until you have a nice consistency. Season with black pepper.
Bring your soup back up to the boil and then cover. Put it back onto a simmer if you're going to have it straight away.
Put about 1tsp of butter in your pan and add the rest of your bacon lardons. Cook until nice and crisp and coloured. While your bacon is cooking add 3 pieces of slices french baguette to your pan and fry them with the bacon, adding another tsp of butter and tsp of garlic paste and turn them. Cook each side until golden. Sprinkle some fresh parsley on top of the baguette slices.
Sprinkle the crispy bacon on top of your soup and enjoy with your large french baguette garlic croutons.