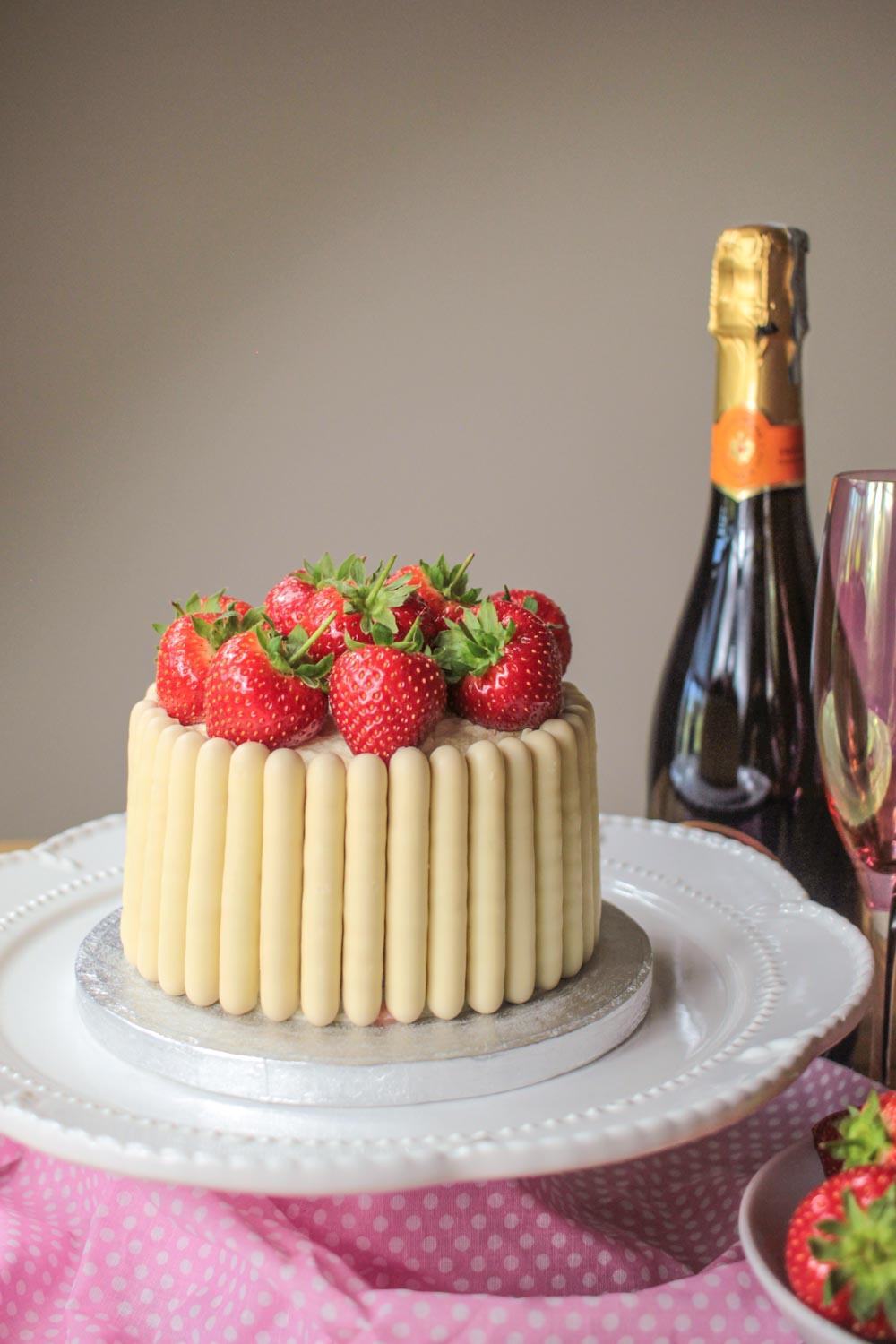 White Chocolate, Strawberry and Prosecco Cake
Recipe by Globe Scoffers
Visit website
---
---
---
---
Ingredients
2 140g packets white chocolate fingers
115 g margarine / unsalted butter
115 g golden caster sugar
2 eggs
115 g self-raising flour 
4-5 tbsp strawberry jam
1 punnet Fresh strawberries
110 g margarine / unsalted butter
320 g icing sugar
4-6 tbsp prosecco
---
Method
Preheat the oven to 180°C / 160°C fan / 350°F / gas 4. Line two 5 inch baking tins and grease well with margarine / butter.
Cream the butter and the sugar together until the mixture is nice and fluffy.
Add the eggs one at a time and mix well.
Sieve the flour into the bowl and fold into the mixture.
Divide the mixture evenly between both tins.
Place into the oven and bake for 20-25 minutes.
Once ready, take out the oven and leave to cool on a wire rack.
Cream the butter on its own for about 5 minutes on a medium speed.
Sift the icing sugar into the creamed butter and then mix together on a slow speed. Gradually increase the speed until it forms a thick paste.
Add the prosecco and whisk together for one minute. Set aside.
Take the cooled cakes and carefully slice the domed top off of each to provide a flat surface. Slice each cake in half with a sharp knife so you have got 4 thin cakes. Place the bottom section onto a board, using a small dollop of frosting to secure it in place.
On top of the bottom layer of cake add a tablespoon of jam and smooth down with the palette knife, leaving about half an inch to the edge, you don't want your jam to seep out the edges. Repeat on every layer of the cake apart from the top one.
Place some frosting on the top layer of the cake then spread it all over and down the sides, covering the cake entirely.
Now add the chocolate fingers. Work your way round the cake, pressing them lightly into the frosting to hold them in place.
Add the strawberries to the top of the cake leaving them whole. Put as many as you can fit on.
Serve with a glass of prosecco and enjoy!