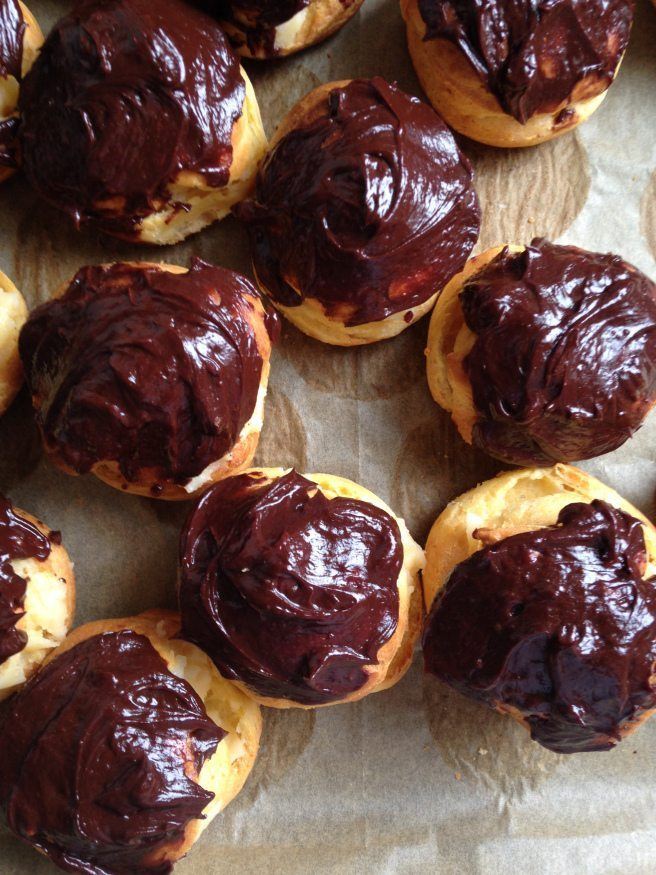 Homemade Eclairs
Recipe by Mandarina
Visit website
---
---
---
---
Ingredients
100 g butter

1 pinch salt

2 tsp sugar

1¼ cup all-purpose flour

1 cup water

4 eggs

(at room temperature)

Pastry Cream Filling

500 ml milk

(you may replace half of the milk with cream for s super creamy but higher in calories pastry )

4 egg yolks

½ cup sugar

30 g all-purpose flour

20 g corn-starch

1 tsp vanilla sugar

Chocolate ganache

150 g chocolate

75 ml cream

(not sweet)
---
---
Method
Preheat oven to 220*.
Line 2 baking sheets with parchment paper and set aside.
Put the water and butter in a medium saucepan and bring to a boil over medium low heat.
Add the flour, salt and sugar all at once and stir well with a wooden spoon until everything is completely mixed in. Stir constantly for 2 minutes.
Scrape the dough into a large bowl.
With a whisk or wooden spoon, beat in the eggs one at a time until all four eggs are well incorporated.
Fill a pastry bag fitted with a large round tip with some of the dough and pipe out the dough in pan.
Bake the éclairs for 10 minutes, at 220* and reduce the temperature to 180* and continue baking them for an additional 20 to 25 minutes or until lightly golden brown.
As soon as they come out of the oven, use a medium size piping tip and make a little hole at the end of each side so the steam can escape, allow to cool completely.
While the éclair dough is baking prepare the pastry cream filling.
Add milk into a large saucepan over medium heat.
Mix the sugar, egg yolks, flour, cornstarch, and vanilla in another bowl.
When the milk starts simmering, remove from heat. Add the mixture of eggs and whisk carefully.
Put the saucepan over medium-low heat and cook it, stirring the whole time until the custard thickens.
Pour it into a glass bowl and cover with plastic wrap. Let it cool completely before filling the éclairs.
Heat the cream in a small pan over medium heat, being careful not to reach the boiling point.
Pour the heated cream over the chocolate chips and let sit for 1 minute then whisk until the chocolate has melted.
When ready to assemble, using a piping bag fitted with a medium size round tip, to fill each shell with the pastry cream and spoon the chocolate over the top.
Allow them to set slightly before serving.