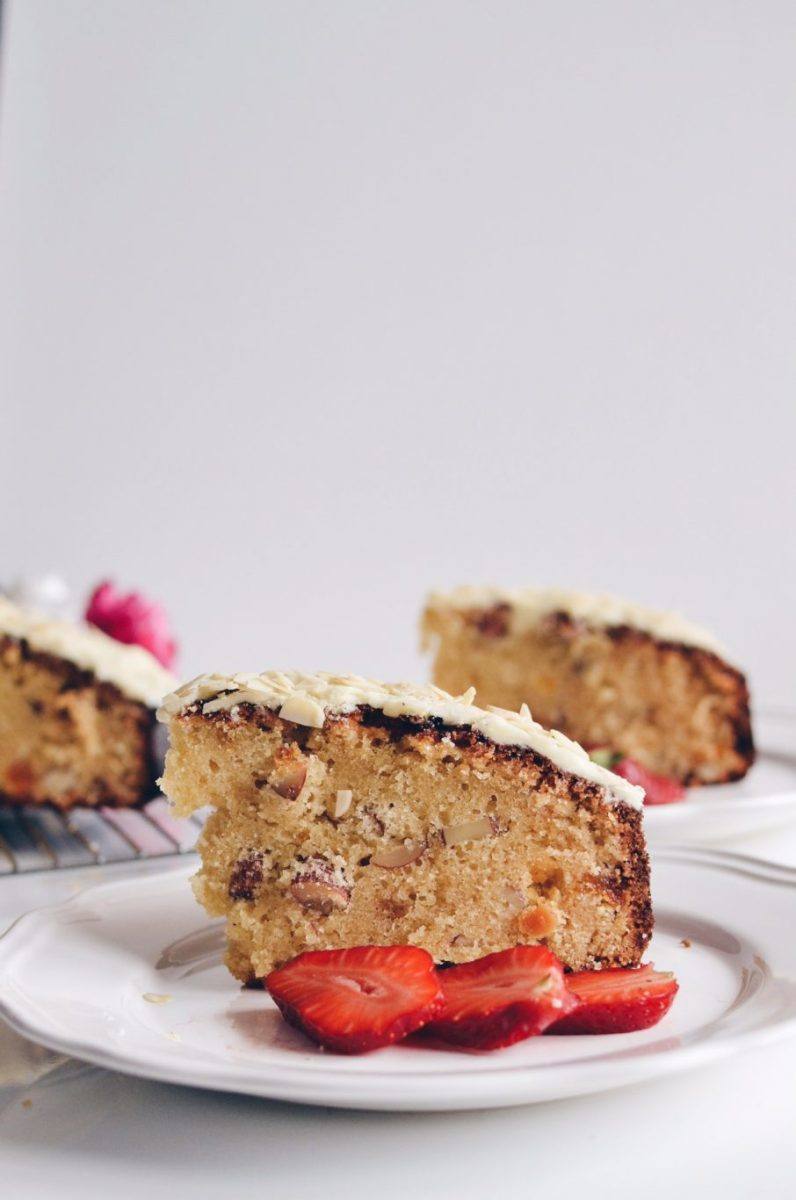 Almonds and dried apricots cake covered in white chocolate glaze
Recipe by Mandarina
Visit website
---
---
---
---
Ingredients
2.75 cups flour
3 tbs cornstarch
3 tsp baking powder
1 tsp powdered cardamom
a pinch of salt
200 g butter
0.25 cup sunflower seed oil or olive oil
5 medium eggs
1.67 cups sugar
1 tsp vanilla extract
1.33 cups milk
0.75 cup chopped almonds
12-15 dried Apricots
200 g white Chocolate
0.25 cup unsweetened milk cream
---
Method
Preheat oven to 180 degrees Celsius.
Chop the almonds and toast them in the oven 5-10 minutes, until they start getting golden in the edges. Careful because they may burn quickly. Toasting nuts makes them extra crunchy and enhances their flavour, but if you're short on time you may skip this step. Once the almonds are well-toasted remove from the oven and set aside to cool completely.
While the almonds are toasting chop the dried apricots and set aside.
Butter and flour a 26 cm pan.
In a big bowl mix flour, corn-starch, baking powder, a pinch of salt and cardamom powder.
In another bowl mix butter and sugar until creamy.
Add oil and mix again.
Start adding eggs one by one and beat well.
Pour the milk and vanilla extract and beat again.
Pour the dried mixture into the wet mixture and mix well.
At the end add the chopped almonds and chopped dried apricots.
Bake in the preheated oven for around 1 hour, or until a toothpick inserted in the middle comes out clean. Check after 40 minutes and if the cake starts to brown on top, put an aluminium paper, to prevent it from burning.
Let the cake cool in the pan for around 20-30 minutes and then remove to a wire rack to cool completely.
Once the cake is completely cool prepare the chocolate glaze.
Chop the white chocolate into very small pieces, the smallest you can.
Warm the cream, until it gets hot and pour it over the chopped white chocolate. Let it sit for 30 sec to 1 minute and start mixing fast, so the chocolate melts.
Pour the chocolate glaze over the cake and also some flaked almonds if you have them on hand.