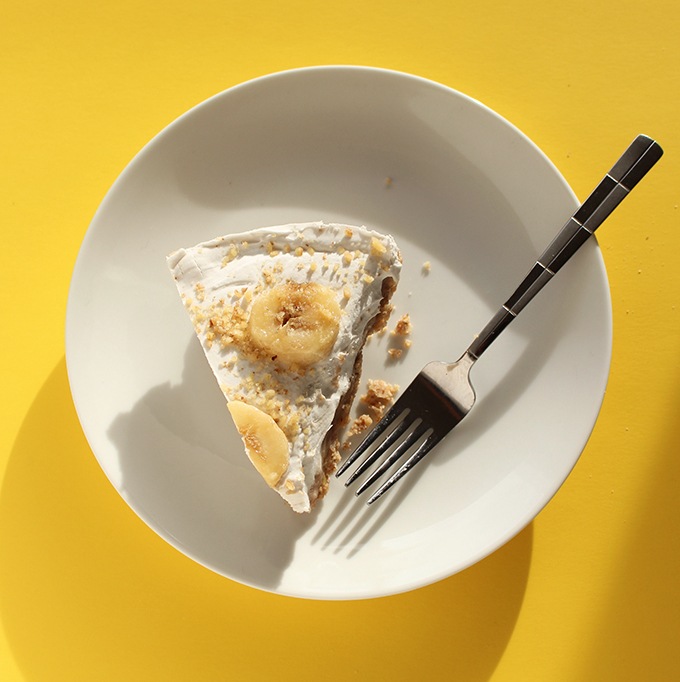 Banana Cream Pie (V, GF)
Recipe by Sweet Like Cocoa
Visit website
---
---
Caramelized bananas smothered in homemade vegan pudding and a thick layer of whip cream sit atop a nutty walnut crust in this delicious banana cream pie!
---
---
Ingredients
---
---
Method
Start with the pudding layer, since it needs time to chill:
Begin by mixing an dissolving the cornstarch into your dairy free milk of choice
Add to a saucepan over medium heat
Stir in sugar and vanilla extract, whisking frequently while the mixture heats up and begins to thicken
Let the mixture reach a gentle boil, making sure to whisk frequently
Lower the heat and allow the mixture to cook for another 6-8 minutes
At this point it won't be as thick as pudding, more like a thicker sauce - it will continue to thicken to pudding consistency as it cools!
Remove from heat and transfer into a bowl
Cover with saran wrap, making sure the wrap is in contact with the top of the pudding (to prevent crusting) and place into the fridge to cool completely
Next, make the crust:
Preheat oven to 350 °F
To a food processor, add walnuts, oats or oat flour and sugar
Process until walnuts are ground and are incorporated with oats and sugar
Add melted coconut oil and continue to process until your mixture sticks together when pressed together between your fingers
Spray or grease a pie dish, and add your crust mixture
Use your fingers to spread the mixture to fully cover the bottom and a bit up the sides of your pie dish
Bake for 25-28 minutes, or until the edges begin to turn golden brown
Set aside to cool
Next, make your banana layer:
Slice up 2 medium sized ripe bananas
Spray or grease a frying pan with a bit of coconut oil and warm to medium-low heat
Once the pan is warm, add your bananas in a single layer
Sprinkle with half the sugar and half the cinnamon
Allow to cook for 2-3 minutes, then flip banana slices to the other side
Sprinkle with remaining sugar and cinnamon, and cook for another 2-3 minutes
Once the bananas are sufficiently caramelized, remove from heat
Transfer to a bowl/dish and allow to cool for a few minutes
Coconut whip cream:
Remove the hard coconut cream portion from your chilled cans of coconut milk into a large bowl
Reserve the remaining coconut water for use in other deliciousness (I add a few tablespoons to my post-workout chocolate smoothies = BEST)
Using a stand or electric mixer, mix the coconut cream until it is light and fluffy (a few minutes)
Add powdered sugar and vanilla extract, and continue to whip for a few more minutes
Place into the fridge until you're ready to use
Assemble your pie:
Once your pudding is completely cooled, it's go time!
Start by layering your caramelized bananas onto the crust. I leave about half an inch bare around the edges of the crust
Give the pudding a nice thorough stir, then add on top of bananas and spread
Spread coconut whip cream over the top of the whole pie
Top with any extras you'd like! I used some ground walnuts and more banana slices
Pop this baby in the fridge for a few hours to completely cool and set
Enjoy!