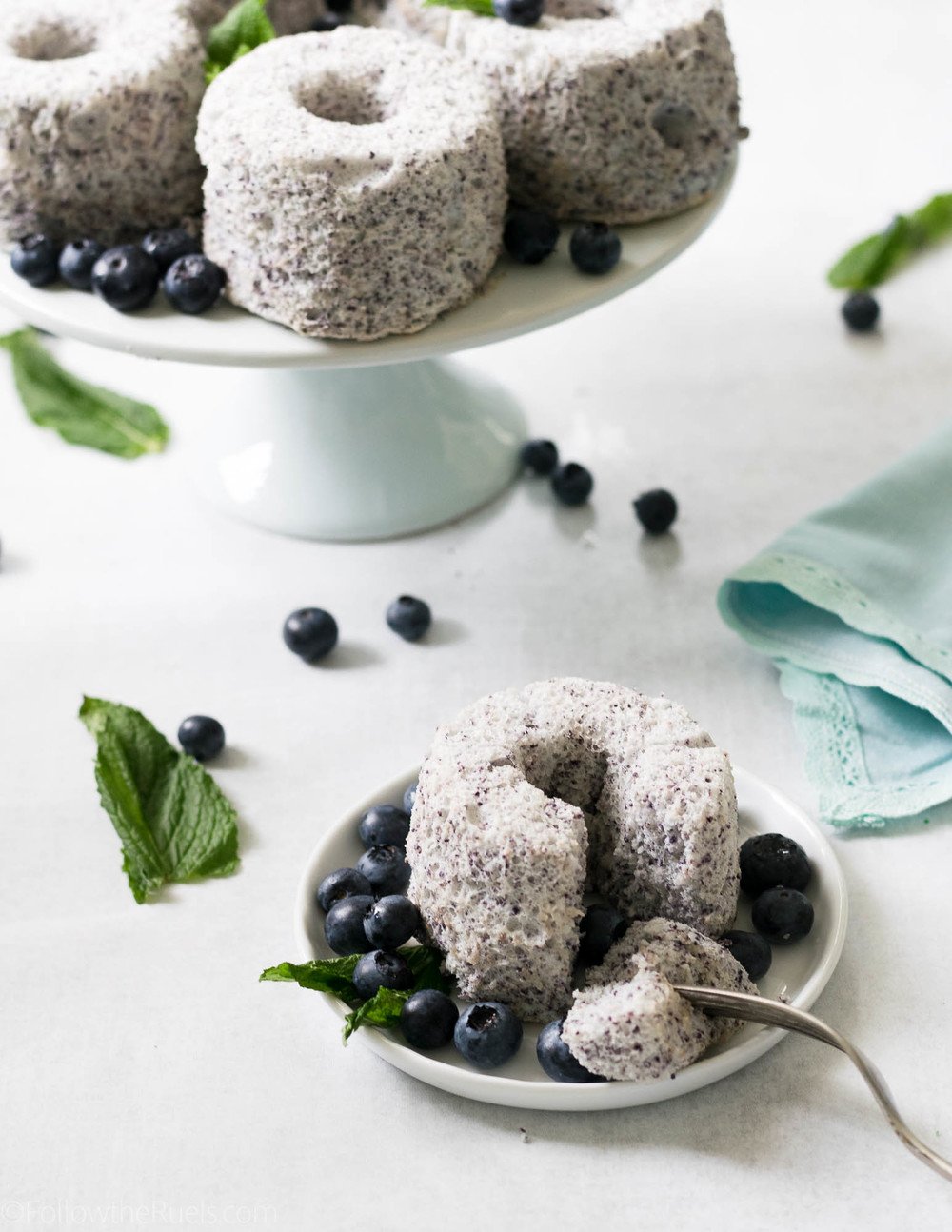 Blueberry Angel Food Cake
Recipe by The Honey Blonde
Visit website
---
---
You definitely don't have to worry about the guilt with this recipe. It is about as "light" as any cake can be! Plus, it probably packs a full serving of fruit thanks to those freeze-dried blueberries.
---
---
Ingredients
---
---
Method
Preheat oven to 350 degrees. Pour freeze dried blueberries in the work bowl of a food processor and process until completely fine. Alternately, if you do not have a food processor, place blueberries in a zip top bag and smash with a spoon or back of a pan until a fine powder forms.

Sift blueberry powder, flour, and half of the sugar into a bowl. In a separate bowl add egg whites and cream of tartar. Mix on high speed until a foam forms.

Add in lemon juice, water, and 1/4th of the remaining sugar. Keep mixing for another 30 seconds, then add in a bit more sugar. Keep adding the sugar every 30 seconds to 1 minutes, until the egg whites have formed a medium stiff meringue, meaning the egg whites form a peak, but the tips fall over.

Sift about a third of the flour mixture over the egg whites. Gently fold in until mostly combined. Add in half of the remaining flour and repeat. Then add in the rest of the flour and fold until egg whites and flour are completely combined.

Spoon the mixture into an angel food cake pan or mini pan. Bake for 20 minutes for the mini cakes or 35 minutes for a large cake, or until a skewer inserted halfway between the center and the wall of the pan comes out clean. Let the cake cool upside down on a wire rack or balanced on a bottle until cooled to room temperature.