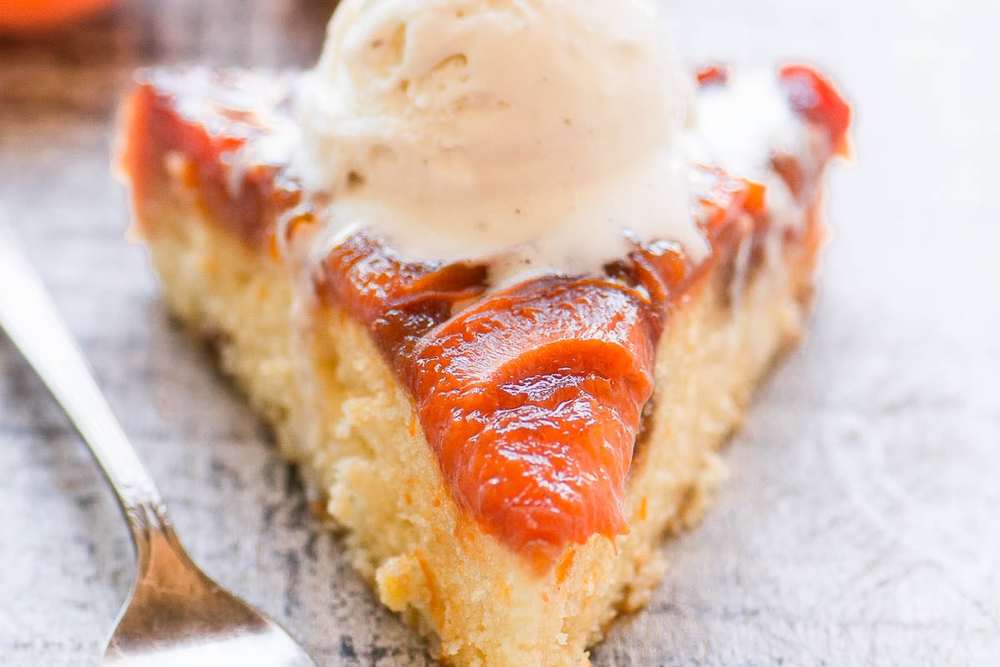 Caramelized Apricot Upside Down Cake
Recipe by The View From the Great Island
Visit website
---
---
Caramelized Apricot Upside Down Cake ~ an easy breakfast or coffee cake recipe made with fresh apricots and a luscious caramel sauce.
---
---
Ingredients
---
---
Method
Grease a non-stick 9 inch round cake pan.
Slice the apricots in half and remove the pit. Arrange the fruit, cut side down, on the bottom of the pan. Fit the fruit in as tightly as you can, without crushing it. It's fine if there are small spaces in between.
Put the sugar and water in a small saucepan. Stir to combine and heat to a boil. Without stirring, boil until a candy thermometer reaches 360F. Pour the caramel over the apricots, and be careful, this liquid is very hot and can burn you.
Cream the butter and sugar together until light and fluffy. Add the eggs, one at a time, beating in between. Scrape down the sides of the bowl as needed. Blend in the sour cream and vanilla.
Whisk the flour, baking powder and salt together and add to the wet ingredients. Mix just until they are combined.
Spread the batter over the apricots and smooth out evenly. Try not to disturb the apricots too much.
Bake for 30-40 minutes until a toothpick comes out clean. I like to place a baking sheet under the pan to catch any potential drips.
Let the cake cool for about 15 minutes, and then flip it over. The best way to do this is to cover the top of the pan with a plate, and then in one swift move flip the whole thing over. Lift the pan gently. If any of the fruit comes dislodged, just patch it back together.
The cake can be serves warm or at room temperature.