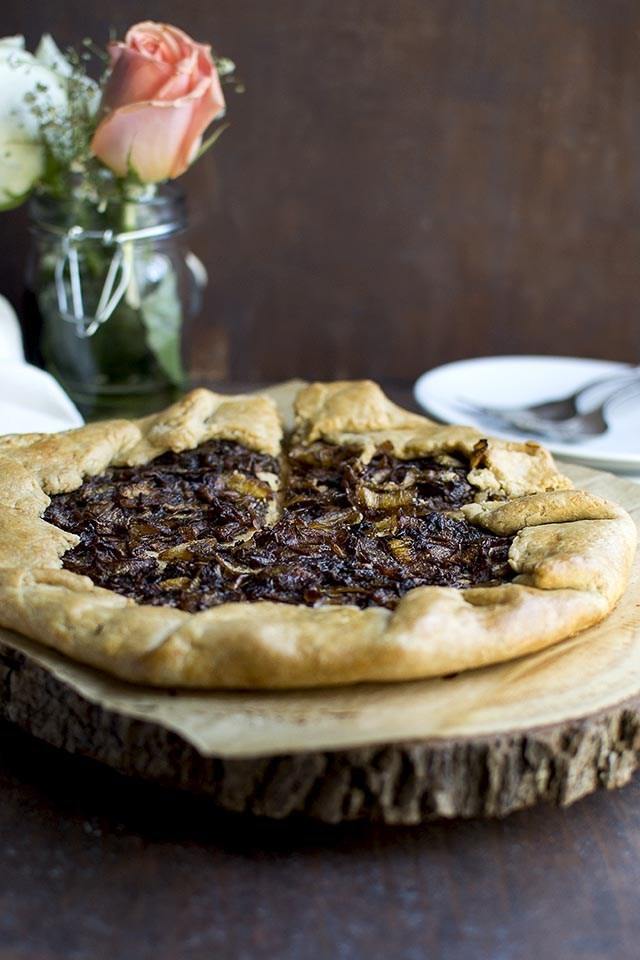 Caramelized Onion Galette
Recipe by Cook's Hideout
Visit website
---
---
---
---
Ingredients
ricotta
ricotta
ricotta
6 tbsp Unsalted Butter, cut into pieces and chilled
5 tbsp ice cold water
2 tbsp unsalted butter
3 medium onions
1 tsp Ground Thyme
to taste Salt Pepper
1 egg beaten with 1tbsp milk
---
Method
In a bowl, combine the flour with salt. Rub the butter into the flour until it resembles coarse meal. Add water slowly to the flour and stir until just incorporated; gently knead to form a dough. Flatten the dough into a disk, wrap in plastic wrap and refrigerate for 1 hour.
In a skillet, melt the butter and add the onions & thyme; cook over moderately high heat, until softened, about 10 minutes. Reduce the heat to low and cook until lightly browned and reduced in volime, about 10~15 minutes longer. Season with salt and pepper. Let cool.
Set a pizza stone on the bottom rack of the oven and preheat the oven to 375°F.
Line a baking sheet with parchment. On a lightly floured work surface, roll out the dough into a 12" round disc and transfer onto the baking sheet.
Spread the onions on the round, leaving a 1½" border. Fold the edge of the dough up and over the filling and brush the edge with the egg wash.
Bake the galette on the stone for 40 minutes or until the dough is nicely browned on the bottom.
Transfer the galette to the top shelf and bake for about 5 minutes longer, until the top of the crust is browned. Transfer the galette to a rack and let cool slightly. Serve warm.