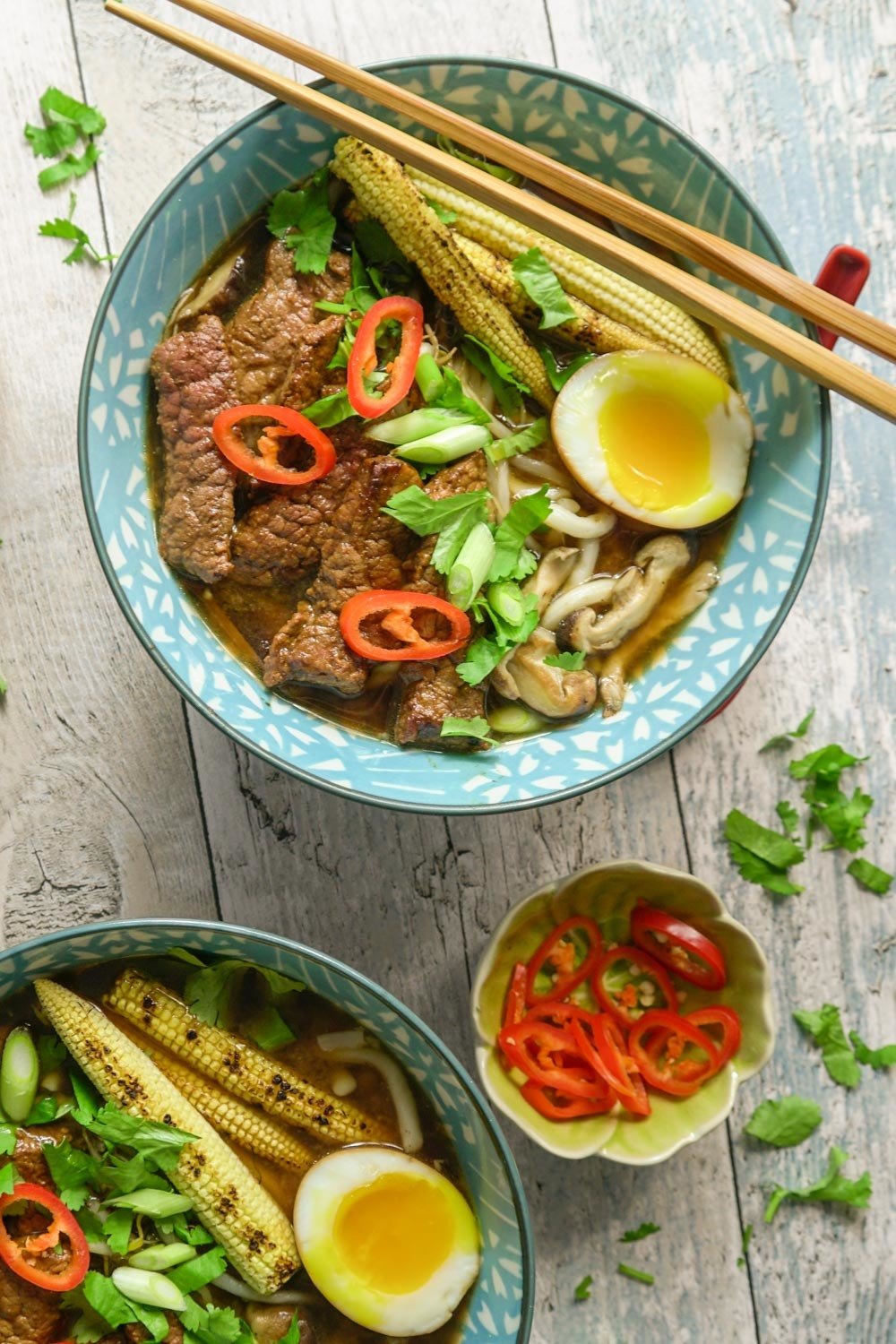 Chilli Beef Ramen
Recipe by Globe Scoffers
Visit website
---
---
---
---
Ingredients
400 g flat beef steaks
1 tbsp Sriracha hot sauce
0.5 tbsp runny honey
1 tbsp sesame oil
0.5 tbsp sesame oil
2 tbsp miso paste
500 ml beef stock
2 garlic gloves
2 cm fresh ginger
0.25 cup soy
2 tbsp mirin
2 soy marinated soft boiled eggs
300 g thick udon noodles
150 g shiitake mushrooms
175 g baby corn
200 g bean sprouts
1 handful fresh coriander
2-3 spring onions
1 fresh red chilli
---
Method
Firstly, make the chilli beef marinade by mixing together all the ingredients in a bowl.
Flatten the beef out by dragging across it with the blade of your knife. Slice into strips and coat evenly in the marinade. Refrigerate for at least 30 minutes and up to 4 hours.
Add the sesame oil to a large saucepan on a medium heat. Add the miso paste and fry for a minute. Then add the ginger and garlic. Fry for 30 seconds, then add the beef stock.
Stir to combine. Then add the soy and mirin, stir and turn down to a very low simmer. Cover.
Begin cooking the ramen elements separately. Griddle the baby corn for 3-4 minutes, turning regularly. Fry the shitake mushrooms for 5 minutes. Set aside.
Fry the beansprouts for 3-4 minutes then cook the udon noodles for 3 minutes.
Fry the beef on a high heat in batches, be careful not to overcrowd the pan or overcook. 30 seconds per side should be enough.
Begin assembling the ramen. Place most of the bean sprouts and all of the noodles in each bowl, then add half the broth to each. Follow with the mushrooms and baby corn along with the remaining bean sprouts.
Add the beef to each bowl, along with half a soy marinated egg. Top with coriander, spring onions and red chilli. Serve and enjoy!