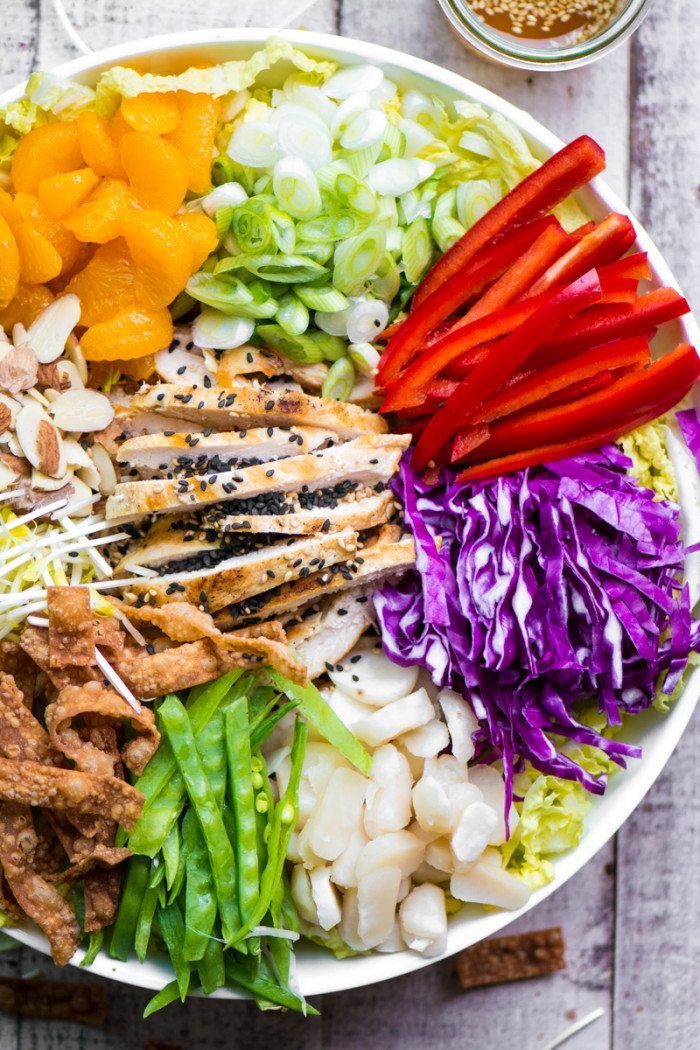 Chinese Chicken Salad
Recipe by The View From the Great Island
Visit website
---
---
This Chinese Chicken Salad recipe is a healthy year round main course salad. It's colorful, satisfying, and insanely crunchy!
---
---
Ingredients
wonton strips

10 wonton wrappers

(more if you like!)

vegetable oil for frying

(I used peanut)

salad

1 good sized head Napa cabbage

1 lb chicken cutlets

( breast, or tenders, grilled and thinly sliced, or use leftover or rotisserie chicken)

¼ small red cabbage

(shredded)

1 red bell pepper

(thinly sliced)

1 bunch green onions

( thinly sliced on the diagonal. White and green parts)

handful beansprouts

handful pea-pods

(thinly sliced)

⅓ cup sliced almonds

1 8-ounce can sliced water chestnuts

1 11-ounce can mandarin orange slices

sesame seeds

dressing

(whisk together and taste to adjust)

½ cup rice vinegar

3 tbsp sesame oil

(more to taste)

dash of sesame seeds
---
---
Method
To make the crispy wontons, slice the wonton wrappers into thin 1/4 inch slices.
Heat 3 inches of oil in a small saucepan until hot. Drop a test wonton strip in the oil ~ it should fry to golden in about 30 seconds. Adjust the oil if it is too hot or too cool. Fry the wontons, in batches, stirring them around so they cook evenly. Drain on a paper towel.
Shred the Napa cabbage and rinse well. Dry on a clean kitchen towel. Put the cabbage in a wide shallow salad bowl.
Arrange the rest of the salad ingredients in bunches around the top of the cabbage. Place the chicken in the center. If you are arranging the salad ahead of time, do not add the wontons or they will get soggy. Add the wonton strips at the last minute. (You can also hold off until after you've dressed the salad and add them on top.)
Add some of the dressing to the salad and toss, using just enough dressing to lightly coat everything, you can always add more later.