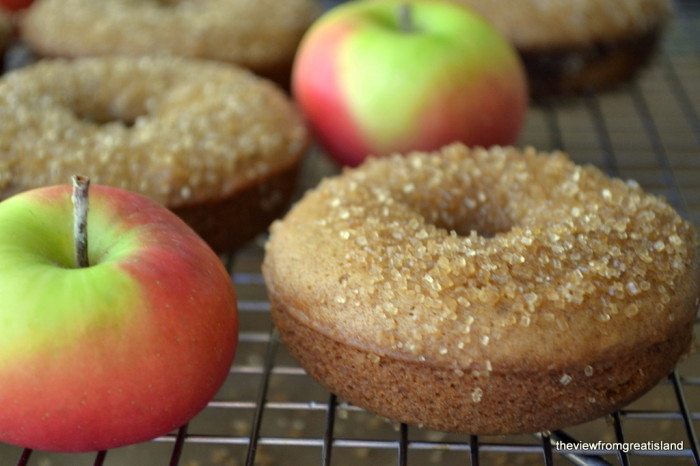 Cider Spiced Doughnuts
Recipe by The View From the Great Island
Visit website
---
---
Cider spiced doughnuts are one of the perks of fall, at least in parts of the country where apples grow and fresh cider is available.
---
Servings
about 14 doughnuts
Courses
---
Ingredients
2⅓ cups all purpose flour

½ tsp salt

1 tsp baking powder

½ tsp baking soda

2 cups apple cider

½ cup vegetable oil

3 eggs

1 tbsp molasses

½ tsp cinnamon

¼ tsp nutmeg

1 cup packed brown sugar

for the coating

1 cup raw or natural sugar

1 tbsp cinnamon
---
---
Method
Set oven to 350F
Whisk together the flour, salt, baking powder, and baking soda and set aside.
In a saucepan, bring the cider to a boil and boil for about 10 minutes, to reduce it to 1 cup. Let cool slightly.
Beat the eggs, oil, molasses, sugar and spices together until thoroughly combined.
Mix in the cooled cider, and then fold in the dry ingredients, mixing just enough to combine everything well, don't over-mix.
Spray your doughnut pan with cooking spray.
Spoon batter into a large ziplock baggie, and cut off a 1/2 inch tip from one corner. Pipe the batter into the pan, filling the holes about 3/4 full. If you only have one pan, do this in batches, but be sure to clean out the pan thoroughly before reusing.
Bake for about 15 minutes until risen and cooked through, you can use a toothpick to check. Don't overbake.
Meanwhile make the sugar coating by mixing together the sugar and cinnamon and put in a shallow bowl.
Let the doughnuts cool slightly in the pan, and then run a blunt knife around the edges and gently release them from the pan.
Coat them in the sugar mixture while they are still warm. If you have trouble with the sugar not sticking, brush the doughnuts with a little melted butter first.
Enjoy right away.