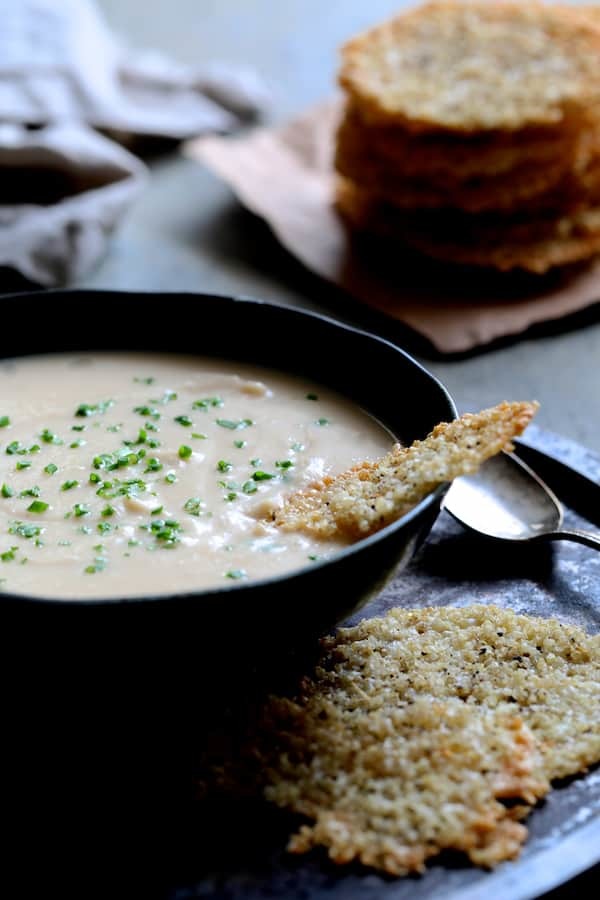 Creamy White Bean Rutabaga and Roasted Garlic Soup with Quinoa Parmesan Crisps
Recipe by From a Chef's Kitchen
Visit website
---
---
Creamy White Bean, Rutabaga and Roasted Garlic Soup with Quinoa Parmesan Crisps makes a lovely light winter supper, lunch or elegant starter. Best of all, this rich and creamy soup is actually quite healthy!
---
---
Ingredients
soup

2 heads of garlic

4 tablespoons olive oil

((divided))

2 tablespoons butter

1 large onion

(chopped)

salt

(to taste)

1 medium rutabaga (approximately 1 1/2 pounds), peeled and cubed

6 cups chicken or vegetable broth

3 cans (15-ounce) cannellini beans

½ cup heavy cream

white pepper

(to taste)

chopped fresh chives

(for garnish)

crisps

2 cups cooked quinoa

2 cups grated Parmesan cheese

black pepper

(to taste)
---
---
Method
SOUP
Preheat oven to 400 degrees. Slice the top off each head of garlic. Place in a small baking dish. Drizzle each head with 1 tablespoon olive oil, making sure the oil gets down into the head of garlic. Cover with aluminum foil. Bake for 30 to 40 minutes or until garlic is soft. When cool to the touch, carefully squeeze the garlic out and set aside. Keep oven at 400 degrees to make the quinoa crisps.
Meanwhile, heat remaining 2 tablespoons oil and butter in a Dutch oven or large pot or medium-high heat. Add the onion with salt to taste, reduce heat to medium and cook 5 to 6 minutes or until onion is beginning to soften.
Add the rutabaga, stir, then add the chicken or vegetable broth. Bring to a boil, cover slightly, reduce heat to medium-low and cook 15 to 20 minutes or until the rutabaga is soft and easily cuts with a knife.
Add the beans, roasted garlic and heavy cream. Puree until smooth with an immersion blender. Alternately, puree in batches in a food processor or blender until smooth. Season to taste with salt and white pepper.
Garnish with fresh chives.
CRISPS
Keep oven at 400 degrees from roasting the garlic. Combine cooked quinoa, parmesan cheese and black pepper to taste in a bowl.
Place heaping tablespoons of the mixture on a silicone or parchment-lined baking sheet. Press the mixture down and form into large, flat circles.
Bake for 8 to 10 minutes or until lightly browned and holding together.
Serve with soup.