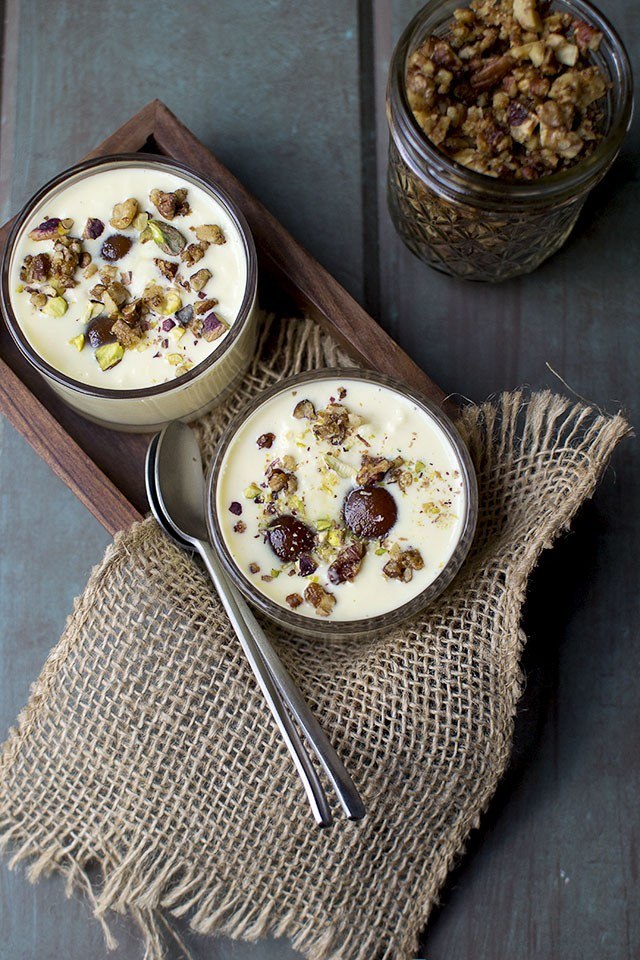 Custard with Gulab Jamun and Praline topping
Recipe by Cook's Hideout
Visit website
---
---
---
---
Ingredients
2 cups milk
3 tbsp Custard powder
2~3 tbsp sugar
ricotta
ricotta
ricotta
2 tbsp light brown sugar
1 tbsp Honey or Light Corn Syrup
8~12 gulab Jamun
---
Method
In a small bowl, whisk together custard powder and ¼cup of milk.
In a medium heavy bottom pan, combine the remaining milk and sugar. Bring the mixture to a boil, lower the heat and stir in the custard powder mixture. Stir continuously and cook on low flame until the mixture starts to thicken, about 2~3 minutes.
Let he mixture cool completely. Chill for at least 4 hours before serving.
Preheat the oven to 350°F. Line a baking sheet with parchment paper and spray with cooking spray.
Combine nuts, brown sugar and honey in a small bowl. Mix well to make sure that the nuts are evenly coated.
Place the nut mixture on the baking sheet. Bake for 7~10 minutes or until the sugar is caramelized and the nuts are toasted. Stir them once in the middle. Remove from the oven onto a wire rack and let cool completely.
Once cooled, break the praline into small pieces.
Divide the custard between serving bowls. Add warm jamuns in each bowl and top with the chopped praline. Serve immediately!!